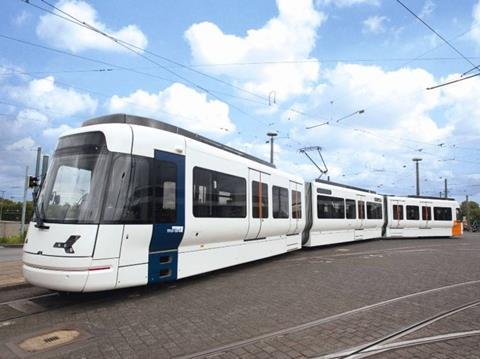 GERMANY: Bielefeld transport operator moBiel announced on January 4 that it had ordered a further 24 Vamos light rail vehicles from a consortium of Heiterblick and Kiepe Electric. The contract is worth €90m.
Leipzig-based Heiterblick will supply bodyshells and bogies, with Düsseldorf-based Kiepe Electric responsible for electrical equipment. Like the 16 Vamos LRVs already in service in Bielfeld, these will be 35 m long and 2 650 mm wide.
The first is expected to enter service in early 2020, with deliveries of all 24 due to be completed by the end of 2022. The LRVs would initially operate on routes 2 and 4, with their entry into service on Line 3 due to take place once work is completed to make platforms on that route's stops longer and narrower.
The latest order of Vamos LRVs would enable moBiel to replace its M8C vehicles, which are now more than 30 years old.