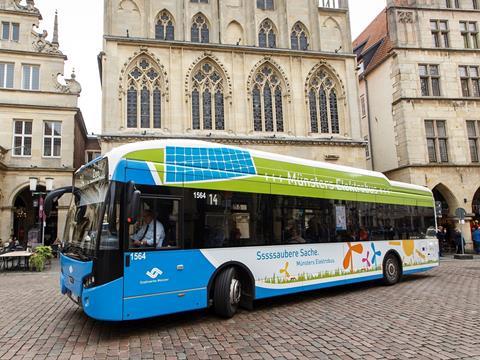 GERMANY: VDL Bus & Coach has received a follow-on order to supply five Citea SLF-120 Electric buses to Stadtwerke Münster.
In April 2015 VDL delivered five Citeas Electric to Münster for testing. One was delivered under the Fast Charging Systems for Electric Buses in Public Transport (SEB) programme, subsidised by the Ministry of Education & Research. The other four are part of the Zero Emission Urban Bus System (ZeEUS) project subsidised by the European Commission and co-ordinated by UITP.
Having analysed data from 4·5 million km of operations in Münster, it was decided that the buses from the follow-on order are to have the pantograph for fast charging further forward. The 12 m long buses with capacity for 80 passengers will be equipped with a Siemens central motor and 180 kWh battery pack.