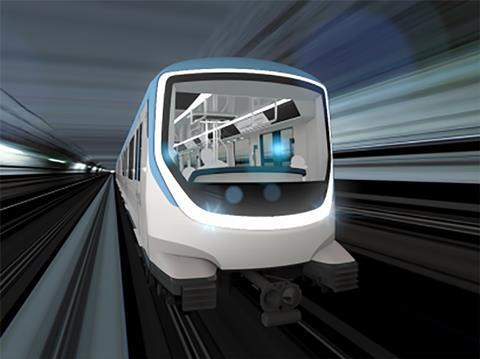 FRANCE: Alstom has been awarded a €100m firm contract to supply Île-de-France Mobilités and Société du Grand Paris with a further 23 trainsets for the Grand Paris driverless metro project.
The order announced on March 29 covers 23 three-car trainsets for use on the future lines 16 and 17. It has been placed under a framework contract signed September 2018, which included an initial firm order for 25 six-car sets which are now being developed at Alstom's Valenciennes Petite-Forêt site.
The trainsets are being funded by Île-de-France Mobilités, which will make them available to the future operating concessionaires for the lines.
The first of the trainsets are expected to be delivered in 2022, for entry into service in 2024. The high-capacity steel-wheeled trainsets from Alstom's Metropolis family will be able to operate at up to 110 km/h. Each of the three-car sets will be 54 m long with a capacity of around 500 passengers.
'We are particularly pleased to contribute, via this contract, to the government's determination to double the Paris metro network over the next 15 years', said Jean-Baptiste Eyméoud, President of Alstom France.
Alstom's site at Valenciennes Petite-Forêt will be in charge of project management, development, production, assembly and testing. The Le Creusot site will supply the bogies, Ornans the traction motors, Tarbes traction systems and Villeurbanne on-board electronics and remote maintenance systems, while Saint Ouen will undertake design work.