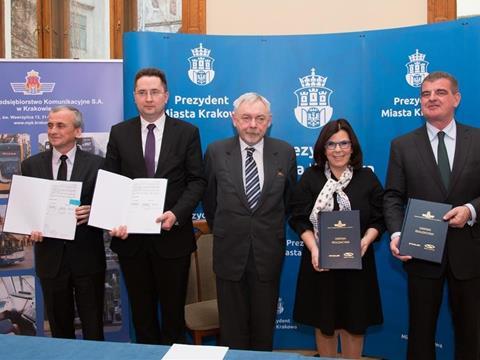 POLAND: MPK Kraków signed a framework contract for the supply of up to 50 trams with a consortium of Solaris Bus & Coach and Stadler Poland on January 16. The base order for 35 trams is worth 314m złoty, with EU co-financing covering 125m złoty.
Deliveries of the low-floor vehicles are due to commence at the start of 2020, with all 35 due to be delivered by the end of the third quarter of that year.
The Tramino Kraków vehicles will be 33·4 m long and 2 400 mm wide with 80 seats and capacity for 147 standing passengers at 5/m2 They will be equipped with air-conditioning, LED lighting, an audio-visual passenger information system, ticket machines and USB charging sockets.
At 1 400 mm, the doors will be wider than on the city's existing trams to allow for faster boarding and alighting. Passenger counting detectors will be installed at the doorways, and the operator can use the data thus generated to adjust service levels across the network based on ridership on individual routes.
An improved bogie frame design will be introduced to reduce wheel wear and vibrations. The trams will also be fitted with regenerative braking. The first two trams will be equipped with emergency traction batteries that will allow them to travel up to 3 km off-wire; the others can be retrofitted.
The contract marks MPK Kraków's ninth EU co-funded project, according to Chairman Rafał Świerczyński. The trams will be used to replace part of MPK's high-floor tram fleet.
MPK Kraków originally selected Pesa as preferred bidder for the contract on August 8. However, the contract was not signed by the deadline of November 10, causing MPK to select second-placed bidder Solaris Tram. Pesa lodged an appeal against this, before MPK Kraków announced on November 30 that Pesa had withdrawn its objection.