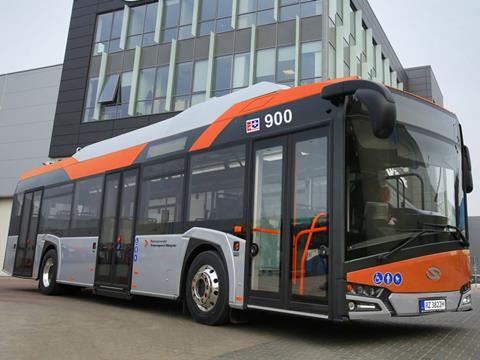 POLAND: The city of Rzeszów signed a contract with Solaris Bus & Coach on October 30 for the supply of 10 electric and 30 diesel buses.
Solaris will supply 10 of its Urbino 12 buses under a 30·2m złoty contract that includes charging infrastructure. The 12 m long vehicles will be equipped with 87·6 kWh Solaris High Power batteries that can be recharged using plug-in charging at the depot or opportunity charging along the route using an inverted pantograph fitted to the charging station.
The air-conditioned buses will be equipped with LED lighting, a wheelchair ramp, an audio-visual passenger information system and wi-fi.
The buses are due to be delivered next year, along with 30 Urbino 18 articulated diesel buses that Solaris is supplying under a 54·4m złoty contract. These will be equipped with DAF propulsion equipment that meets Euro 6 emissions standards.
There are currently 47 Solaris buses in service in Rzeszów including nine powered by compressed natural gas.