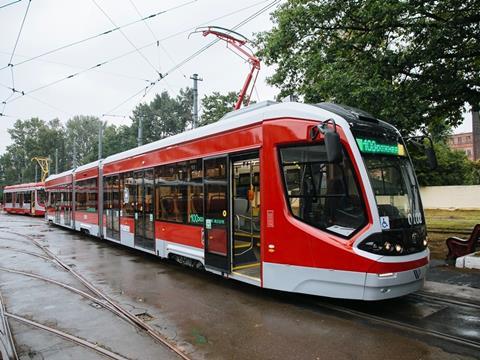 RUSSIA: PK Transportnye Systemy is to supply three 100% low-floor unidirectional three-section trams to St Petersburg operator Gorelektrotrans under a 255m rouble contract.
The only other bid came from trading company Elektrotransport, which works with UKVZ. However, the company's cheaper bid was rejected on the grounds of non-compliant documentation.
PK TS is likely to supply its 27·5 m long Vityaz-M model, which it is currently producing for Moscow under a contract signed last year by a consortium of Metrowagonmash and PK TS.
Deliveries are due by December. The trams will be equipped with wi-fi, a smart card and bank card fare collection system, and passenger counting technology.
PK TS recently won a separate 155m rouble contract to supply three three-section Varyag trams to Gorelektrotrans.