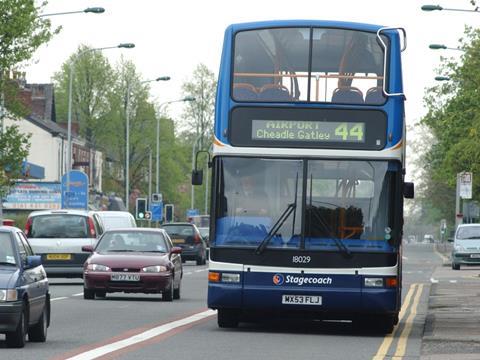 UK: Bus operator Stagecoach announced on August 28 that it will invest £34·6m into the procurement of a fleet of electric buses for Greater Manchester.
If £21·5m can be secured from the government's Ultra-Low Emission Bus Scheme, 105 double-decker Enviro400 EV City battery buses would be purchased from Alexander Dennis.
Under its partnership with ADL, Shenzhen-based BYD would supply batteries and electrical equipment. The batteries would be charged using 'intelligent' chargers to limit loadings on the power supply.
Work to install charging infrastructure could begin in the coming months, with the entry into service of the vehicles in mid-2019. It is envisaged that 15 to 20 buses would be introduced per month, with all 105 in service by early 2020.
The battery buses would be stabled at depots in Hyde Road and Sharston. They would operate on four high-frequency routes connecting the city centre with the airport, two universities and six hospitals. Two further routes would be operated predominantly by electric buses, with low-emission diesel buses from these routes being cascaded to routes serving Trafford and Salford.