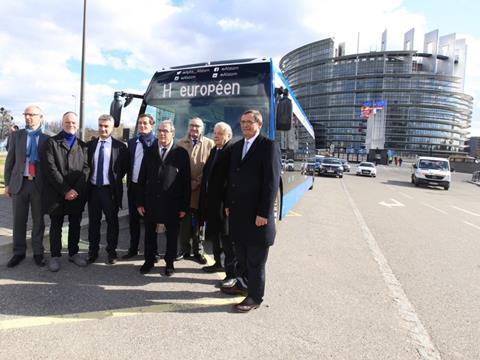 FRANCE: Compagnie des Transports Strasbourgeois has become the launch customer for Alstom's Aptis electric bus, the manufacturer announced on March 8.
The 12 buses that CTS has ordered will be the first battery electric buses in the operator's fleet. They will be 12 m long, 2 550 mm wide and 3·1 m high with capacity for 95 passengers. Each mostly low-floor bus will have three doors and wheelchair spaces. Four-wheel steering means that it will have a smaller turning circle than a conventional bus. The batteries will be charged overnight at the depot.
Alstom presented a prototype of the Aptis in March 2017, since when it has undergone 40 000 km of testing in cities in France, Belgium, the Netherlands, Germany and Spain.
Designed at Alstom's Hangenbieten site in Alsace, the Aptis was awarded an Origine France Garantie certificate in January 2019, meaning that more than 60% of the vehicles' 'added value' is of French origin. Since September 2018 transport authorities can order Aptis buses directly from French public transport central procurement office CATP.