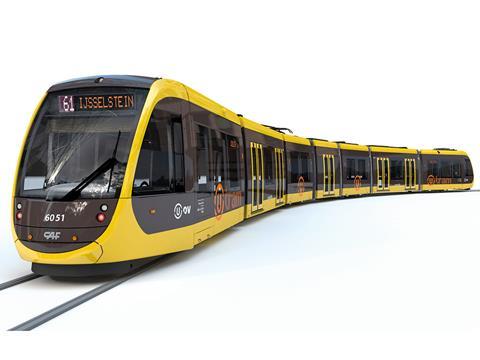 NETHERLANDS: The Province of Utrecht signed a contract with CAF on January 18 for the supply of 22 additional Urbos 100 trams.
These are intended to replace vehicles that are more than 30 years old on the city's sneltram network, which links Utrecht with Nieuwegein and Ijsselstein. The new trams are planned to enter service from 2020.
Earlier this month Utrecht took delivery of the first of 27 Urbos 100 trams ordered in January 2015. These are due to enter service in mid-2018 with the opening of the 7·5 km Uithoflijn that will link Utrecht Centraal station to Utrecht Science Park De Uithof. Strukton Rail has started work to extend the depot at Nieuwegein to accommodate the new rolling stock.
At 41 m long, the 22 seven-section trams ordered this month are longer than the five-section trams currently in production. They can run in multiple with the shorter trams to give a 75 m long formation with capacity for 500 passengers. They will be equipped with LED lighting and regenerative braking, and will have provision for installation of onboard energy storage that would allow catenary-free operation.