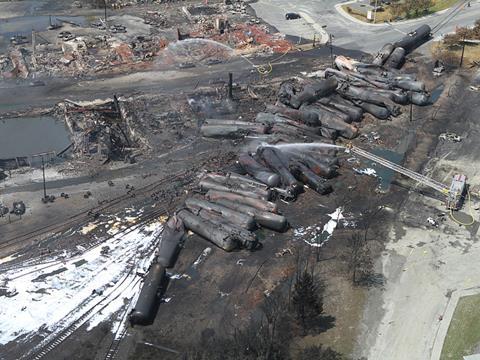 CANADA: Following the devastating derailment and explosion at Lac-Mégantic in Québec on July 6, Montreal, Maine & Atlantic Canada Co announced on August 7 that it had sought relief under the Companies' Creditors Arrangement Act in the Superior Court of Québec. Simultaneously, US-based sister company Montreal, Maine & Atlantic Railway Ltd has filed for protection under Chapter 11 of the US Bankruptcy Code.
Richter Advisory Group has agreed to act as the court-appointed monitor of the Canadian company.
Edward Burkhardt, Chairman of both companies, said it had 'become apparent that the obligations of both companies now exceed the value of their assets, including prospective insurance recoveries, as a direct result of the tragic derailment at Lac-Mégantic, Québec, on July 6, and a process under Chapter 11 and the CCAA is the best way to ensure fairness of treatment to all in these tragic circumstances.'
He said 'MMA wishes to continue to work with the Québec Ministry of the Environment, the municipality of Lac-Mégantic, and other government authorities in the continuing environmental remediation and clean-up as long as is necessary, and will do everything within its capacity to achieve completion of such a goal.'
The company said essential rail services would continue, except at Lac-Mégantic itself where they could be restored as soon as the authorities grant permission.
The two companies are 'committed to preserving going-concern value and to maximising the recoveries available to creditors'. They currently employ 85 people, and employees who provide continuing services would receive wages and benefits according to local law.