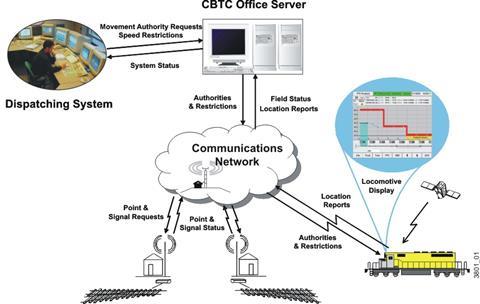 USA: The deadline of December 31 2015 mandated by Congress for the installation of Positive Train Control by US railroads will not be met, the Federal Railroad Administration confirmed on August 7.
The Rail Safety Improvement Act passed by Congress in October 2008 requires all Class I freight railways and passenger operators to develop 'a plan for implementing PTC by December 31 2015' on main line tracks used by passenger services, as well as any lines carrying hazardous materials designated toxic by inhalation. FRA is required to update Congress annually on progress with PTC installation, and this year's report confirms that, as was widely expected, 'most railroads will miss the target date'.
Responding to the FRA report, Michael Melaniphy, President & CEO of the American Public Transport Association which represents commuter rail operators, reiterated APTA's concerns about the Congressional deadline. 'Despite the commuter rail industry's best efforts, implementing PTC nationwide by the end of this year is not possible', he said. 'This was never a realistic deadline because of the significant challenges — technology, spectrum and funding — that still remain to successfully and safely implement PTC.'
He added that when Congress passed the 2008 Rail Safety Improvement Act, the PTC technology available then was 'not mature and did not meet all the requirements of the statute'. Deployment has been further hindered by the difficulty in acquiring radio spectrum for rail applications. Around 50 000 route-km has to be equipped, which rules out using balises or lineside equipment for train location.
'APTA has asked the Federal Communications Commission to allocate free spectrum for commuter railroads as a public safety priority, but so far it has refused to do so', said Melaniphy.
APTA reports that commuter rail operators have spent around $950m on PTC implementation to date, but it estimates that around $3·5bn is required to complete the process. Currently, Congress has only agreed to provide $50m of this, according to APTA.
A detailed analysis of PTC implementation will appear in the September 2015 issue of Railway Gazette International.