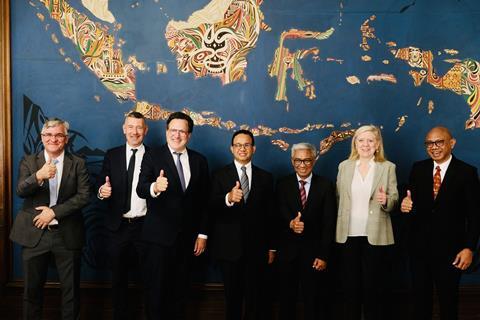 INDONESIA: Transport agency PT Mass Rapid Transit Jakarta has signed memoranda of understanding with Alstom and Thales to explore technology and procurement options for future urban rail projects.
There are plans to expand Jakarta's urban rail network to 235 km by 2035, to reduce traffic congestion and improve air quality. The next stage of the programme includes the 87 km MRT Phase 3 East-West Line with 40 stations.
Following the signing of the MoU on May 17, PT MRTJ President Director William Sabandar said the discussions with Alstom would consider 'the most appropriate trains and signalling for future projects', and an efficient procurement scheme.
Discussions with Thales would cover ticketing and payment systems.
Toby Tiberghien, Alstom's Turnkey & Rolling Stock Director for East Asia, said 'drawing on our strengths and innovative technologies in implementing turnkey systems globally, and experience in various procurement structures, we are confident that this collaboration will lay a strong foundation for an efficient and sustainable urban transport system for Jakarta'.