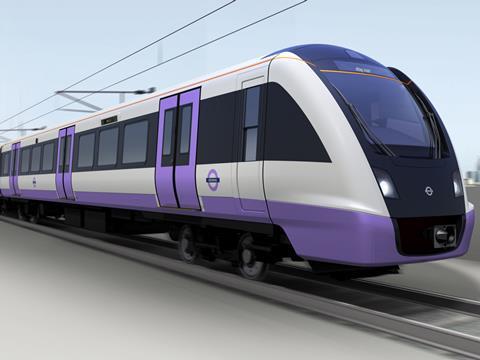 UK: Transport for London named MTR Corp (Crossrail) Ltd as preferred bidder for the Crossrail operating concession on July 18. The £1·4bn contract will run for eight years from May 2015, with an option for a further two years. TfL will make payments to the concessionaire with a nominal value of £1·4bn over the initial eight years, subject to bonus and penalty adjustments.
The subsidiary of Hong Kong's MTR Corp had pre-qualified for the contract in August 2013, alongside Arriva Crossrail Ltd, National Express Group plc and Keolis/Go Ahead.
Crossrail will run 118 km from Reading and Heathrow in the west, through new 21 km long tunnels under central London to Shenfield and Abbey Wood in the east, serving 40 stations. There will be around 700 timetabled services/day with a peak timetable frequency of 24 trains/h, totalling 11·4 million train-km/year. TfL said Crossrail would 'set the benchmark for passenger experience on European metro services and achieve internationally recognised high standards of reliability, train frequency and customer service.'
MTR is expected to employ around 1 100 staff, including up to 850 new posts. This will include almost 400 drivers, and more than 50 apprenticeships. It will also support testing and commissioning.
MTR's LOROL joint venture with Arriva UK Trains currently operates London Overground inner-suburban services under a concession awarded by TfL. 'MTR knows London very well', said Jeremy Long, MTR Corp's CEO, European Business. 'Over the past seven years, we have developed a strong partnership and collaborative working relationship with TfL and Network Rail through our joint venture operation of London Overground. We will build on these partnerships to establish Crossrail as a railway that provides operational excellence and the highest possible level of customer service for London.'
As well as local transport in Hong Kong, MTR operates Beijing Metro Lines 4 and 14, the Daxing Line extension, Shenzhen Metro Longhua Line and Hangzhou Metro Line 1. In Sweden it holds the Stockholm metro concession and is to launch an open-access inter-city service between Stockholm and Göteborg next year. In Australia MTR is lead shareholder in Metro Trains Melbourne and a member of the consortium which is preferred bidder to operate Sydney's North West Rail Link automated metro.
'MTR and TfL are recognised as two of the world's leading railway operators and we are delighted to have the opportunity to bring our worldwide capabilities, experience and knowhow to Crossrail, which is truly a 21st century railway for a 21st century London', said MTR Corp CEO Jay Walder. 'Crossrail's success will be finally realised through pioneering and sustaining a culture to deliver world-class performance. We will work passionately, with TfL, to achieve this as we have in Hong Kong and our international operations including the highly successful London Overground service.'
Crossrail service launch dates
May 31 2015
Liverpool Street – Shenfield
Crossrail takes over existing stopping services, using the existing EMUs
2017
New Bombardier EMUs begin entering service
May 2018
Heathrow – Paddington (mainline platforms)
Crossrail concession takes over the Heathrow Connect service
December 2018
Paddington (Crossrail platforms) – Abbey Wood
May 2019
Paddington (Crossrail platforms) – Shenfield
December 2019
Paddington – Reading
Full service