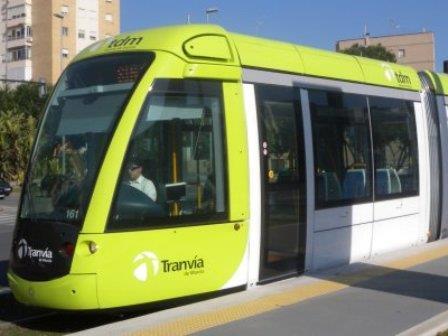 SPAIN: Tranvía de Murcia launched services on its 17·5 km V-shaped light rail network on May 28.

The main route has 24 stops and runs from Estadio Nueva Condomina in the northeast to the University of Murcia campus in the northwest, via the city centre. A branch with four stops connects Los Rectores-Terra Natura to the Catholic University site at Los Jerónimos in Guadalupe.

A 2·2 km demonstration line built by the Tranvimur joint venture of Acciona and Grupo Cívica entered service along Avenida Juan Carlos I in April 2007. Two years later, the Tranvía de Murcia consortium of FCC and Comsa was awarded a 40-year contract to build, operate and maintain the 17·5 km network, including the pilot section.

Tranvía de Murcia has a fleet of 11 Alstom Citadis 302 vehicles acquired from Metro Ligero in Madrid. The low-floor bi-directional trams can carry 186 passengers, including 54 seated, and run at a commercial speed of 23 km/h on the main line and 27 km/h on the branch. Power is drawn at 750 V DC from overhead catenary but a proposed southern extension to Murcia station would use catenary-free operation along Gran Vía.

Line 1 is expected to carry around 5·5 million passengers in 2011.