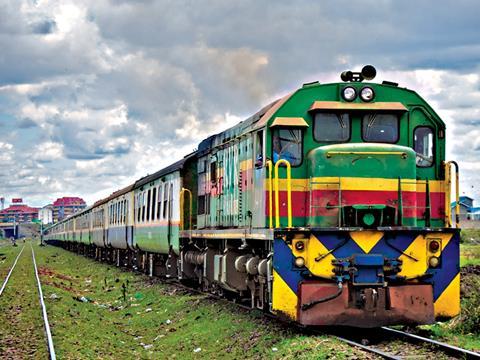 KENYA: President Uhuru Kenyatta issued an executive order on February 9 creating the Nairobi Metropolitan Area Transport Authority.
Covering the counties of Nairobi City, Kiambu, Kajiado, Machakos and Murang'a, NMATA aims to formulate a 'sustainable integrated public transport strategy' based on bus rapid transit and commuter rail routes. It is envisaged to be the precursor to an authority with expanded powers and a broader mandate that would be established by statute at a later date.
To be developed in three phases, the Nairobi Commuter Rail Service project would modernise currently underused routes and build extensions. The first phase would upgrade track and signalling on four routes totalling around 100 km between central Nairobi, Ruiru, Syokimau, Kikuyu and Embakasi Village. A 6·5 km branch would be built to serve Jomo Kenyatta International Airport, and new stations would be opened on existing routes. Phase 1 also envisages the purchase of new rolling stock.
Against a background where 85% of Nairobi's population do not own a car, the project aims to increase capacity on the routes from 5 million passengers per year to 15 million initially and eventually 60 million.
Phase 2 would extend services to Thika, Limuru and Lukenya; Phase 3 would link Nairobi with satellite towns such as Ongata Rongai, Kiserian, Ngong, Kiambu, Ruai and Kangemi.
To be developed under a PPP concession, the commuter rail and BRT projects could be partly funded with €20m from KfW, currently under appraisal. The German Federal Enterprise for International Co-operation would provide technical support.
A year ago Kenyatta announced that work on a light rail network in the capital would begin later that year, with financial support from Hungary. Local media reports suggest that work did not start as planned.