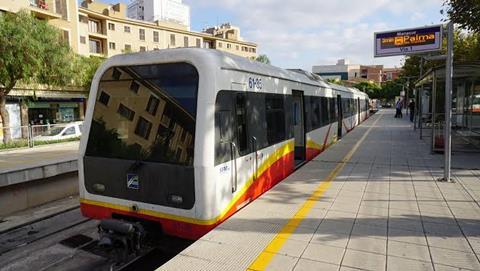 KENYA: The much-delayed contract for Kenya Railways to purchase 11 second-hand DMUs from Serveis Ferroviaris de Mallorca to operate commuter services around Nairobi was formally signed by KR Managing Director Phillip Mainga during a visit to the Balearic island on March 2.
SFM's metre-gauge Class 61 DMUs built by CAF in 1995-2003 were put up for sale as surplus to requirements following the completion of 1·5 kV DC electrification from Enllaç to Sa Pobla in January 2019. Several have already been sold to companies in France and Portugal.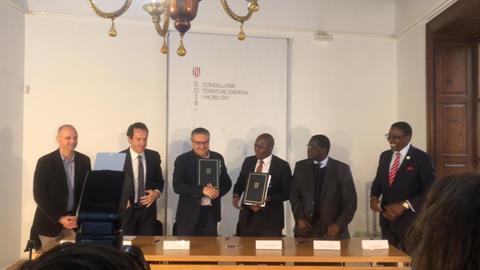 Following a technical assessment of their condition and 'operational suitability', Kenya's Ministry of Transport agreed to buy 11 two-car units and five spare vehicles under a KSh1·15bn deal including spare parts. KR pointed out that this would be around 10% of the cost of new stock, adding that the CAF units could be expected to operate for a further 20 to 25 years. At that stage it was envisaged that the DMUs would be delivered by mid-2019.
The acquisition forms part of a master plan to expand commuter services on five routes radiating from the Kenyan capital, in a bid to reduce traffic congestion. The objective is to increase capacity from 13 000 to 132 000 passengers a day by 2022. As well as procuring the DMUs, KR will refurbish 20 loco-hauled coaches to augment the 40 that it currently deploys on suburban services, and build nine new stations.
Of the five routes, one links Nairobi Central to the Standard Gauge Railway hub at Syokimau in the capital's southeastern suburbs, while another continues southeast along the former Nairobi – Mombasa main line to Athi River, where a new station is to be built at Kitengela. Passenger services will also be revitalised on the branch running northeast to Thika, serving new stations at Umoja and Kenyatta University, while inner-suburban services will run as far as Embakasi, close to the international airport. The fifth route runs northwest along the historic main line as far as Kikuyu on the Rift Valley escarpment; on this line KR expects to develop new or rebuilt stations at Strathmore University, Mbagathi Way, Kibera, Dagoretti and Thogoto.
Last month, KR announced the start of work to revitalise the infrastructure on the 177 km Nairobi – Thika – Nanyuki line. It said this would provide 'faster, reliable and safe transport' for freight and encourage economic development whilst reducing wear and tear on local roads. A key objective is to serve the Vivo Energy high capacity storage depot in Nanyuki, while Special Economic Zones are to be established in each of the six counties served by the line.