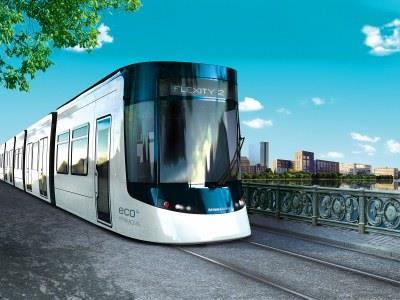 CHINA: CSR Nanjing Puzhen Rolling Stock Co has won an order to supply 15 catenary-free trams for Nanjing. They will be the first to use Bombardier's Primove traction batteries.
The trams will be built in Nanjing under a 10-year technology licence agreement signed in 2012 that allows CSR Puzhen to manufacture trams for the Chinese market using Bombardier technology. Bombardier will supply the propulsion and control equipment, bogies and batteries.
The 100% low-floor vehicles, based on the Flexity 2 platform, will be 32 m long and 2 650 mm wide. Each will have two Primove lithium-ion batteries, which will be recharged via the pantograph at stops and the termini; Bombardier's Primove induction charging system will not be used. The trams will also feature Mitrac 500 propulsion technology and Flexx Urban 3000 bogies.
The trams will be used on two lines, which will only have catenary for 10% of their length. Eight will go to the 8 km, 13-stop Hexi line and seven will go to the 9 km Qilin line. They are due to enter revenue service in 2014.