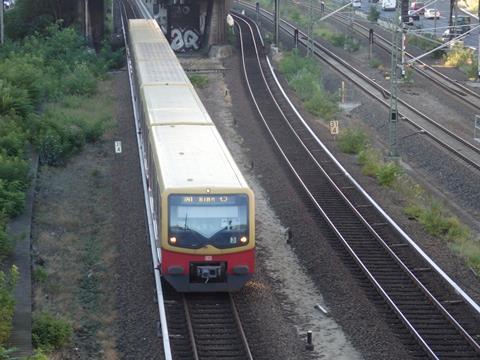 GERMANY: National Express has confirmed that it has withdrawn from the competition for a contract to operate the Berlin S-Bahn's 'Ring & Branches' service group. This leaves incumbent Deutsche Bahn as the only remaining candidate.
While transport authority VBB had declined to name the prequalified bidders for the contract, DB and National Express had confirmed they were included. RATP and MTR Corp were reported to have withdrawn previously. Potential bidders are understood to have been concerned about the complexity of the protracted process and the detailed requirements.
The Berlin senate decided to call competitive tenders for the operation of S-Bahn services following a series of high-profile technical failures in 2009 which led to severe disruption. However the process has been slow, with disputes over the division of services and whether to bundle rolling stock procurement with the operating contracts. In July the Länder of Berlin and Brandenburg directly awarded DB an 'interim' contract running from the end of its current contract in December 2017 until August 2023, with the aim of awarding long-term operating contracts and procuring a new fleet of trains valued at around €800m in this period.
National Express said it remains fully committed to Germany, where it has 'an active pipeline of further rail opportunities'. The first Bombardier Talent 2 EMUs for its Rhein-Münsterland-Express contract have now been delivered, and the company expects profitability to be 'ahead of plan' when this 15-year contract begins in December 2015.
'We remain firmly committed to growing our rail business in Germany, and to delivering high-quality services which will significantly improve passengers' experience', a spokesman told Railway Gazette on October 30. 'We are currently involved in a number of tenders right across the country, and we look forward to launching our first new service on two regional lines in Nordrhein-Westfalen late next year.'