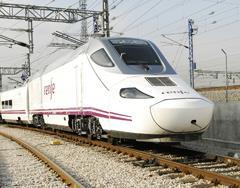 SPAIN: Investment in new rolling stock as well as the infrastructure of the national network is set to total €10·2bn next year, according to the Ministry of Development's draft budget.
Appearing before a parliamentary committee on October 6, Secretary of State for Transport Concepción Gutiérrez said the ministry was planning to spend a record total of €20bn in 2010 with the twin aims of providing an economic stimulus and promoting sustainable development.
Investment in rail infrastructure totals €8·9m, with 71% earmarked for the high speed network which is due to grow by 513 km in 2010. Routes from Madrid to north and northwestern Spain, including the Basque Y, are to receive €2·15bn, while €1·8bn has been allocated to the route to Valencia, Alicante and Murcia . 2010 should see the opening of the Madrid - Cuenca - Valencia route, which according to Development Minister José Blanco will reduce CO2 emissions by 80 000 tonnes a year.
RENFE's €1·3bn rolling stock investment programme for 2010 makes provision for equipping the new route, as well as bringing into service 115 trainsets for suburban and medium-distance services. Under a programme to acquire 100 locomotives for the freight business in 2009-10, a total of 55 are due to be put into service next ye
From 2010 high speed services to Valencia will terminate at a temporary facility now nearing completion. Comprehensive remodelling of the rail network includes construction of a station beneath the existing terminus, with two 1 435 mm and four 1 668 mm gauge tracks on a new north-south through route under the city.