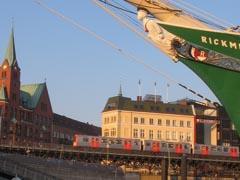 GERMANY: BeNEX has announced framework agreements under which three rolling stock manufacturers could each supply up to 200 multi-section electric multiple-units.
The tendering process began in 2008 and ended on May 5 with the announcement of agreements for Bombardier Transportation to supply Talent 2 units, Alstom Transport its Coradia Continental model and Stadler Rail trains from the Flirt family.
Firm orders will be placed as and when rail operating contracts are won by BeNEX, the holding company owned by Hamburg public transport operator Hamburger Hochbahn and PPP investor International Public Partnership (formerly Babcock & Brown Public Partnerships).
According to BeNEX Chief Executive Wolfgang Dirksen, negotiating the framework contracts offered a more cost-effective approach than tendering each contract individually, but having three suppliers maintained an element of competition.