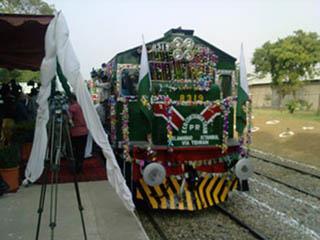 ASIA: Almost since the dawn of railways, far-sighted engineers and politicians have been talking about linking Europe and India by rail. The second half of the 19th century was an era of economic expansion and power politics, as evidenced by the construction of transcontinental railways across the USA, Canada and Russia, and the unfulfilled dream of a Cape to Cairo railway running the length of Africa.
Two years after America's Pacific Railroad was completed, visionary engineers William Low and George Thomas wrote to the British Prime Minister William Gladstone in 1871 with proposals for a 9 500 km railway linking London with Karachi and Mumbai, via Trieste, Istanbul, Aleppo and Baghdad. Although little more than 1 700 km through Western Europe had been built at the time, they believed it would be feasible to complete the route for around £24m.
Political turmoil in the 20th century meant that it was not until the Trans-Asian Railway project was launched by the United Nations in 1960 that efforts could begin to focus on joining up the separate networks to create a 14 000 km rail link between Turkey and Singapore via Iran, India and southeast Asia.
Just a few months short of its 50th anniversary, Unescap's Trans-Asian Railway concept is starting to bear fruit, with the intergovernmental agreement coming into force in June (RG 7.09 p20). Over the years, the project has expanded to cover four main axes, and it seems that governments across the region are increasingly starting to recognise the role that international rail services could play in supporting economic development and alleviating the problems of climate change.
Implementation of different sections of the TAR is likely to be taken forward at regional level. And following the announcement in June that the Bam - Zahedan line in southeast Iran had been completed, the first international freight train ran over this route in August.
On August 14, Pakistan's Prime Minister Syed Yusuf Raza Gilani marked the country's national day by flagging off an inaugural container train from Islamabad to Tehran and Istanbul via Zahedan. Expected to take 15 days, the train was operated under the auspices of the regional Economic Co-operation Organisation.
Originally established in 1985 by Pakistan, Iran and Turkey, ECO later expanded to encompass seven Central Asian states. It is actively promoting the operation of other long-distance container trains across the region, including Almaty – Bandar Abbas and Istanbul – Urumqi.
Although the initial train from Islamabad was a demonstration run, it carried 20 containers with 750 tonnes of freight. PR General Manager Saeed Akhtar is confident that there would be sufficient traffic for a regular service linking Lahore or Faisalabad to Istanbul.
RAI is expected to start regular services between Tehran and Zahedan by the end of this year. With the Mar­maray tunnel under the Bosporus nearing completion, this just leaves the train ferry across Lake Van in eastern Turkey to be bypassed before the rails are finally linked throughout. It is conceivable that long-distance freight trains could begin running soon, but recent experience on the Trans-Siberian corridor suggests that it would be a challenge for rail to compete with ocean shipping, even in a relatively stable political and economic environment.
Some people dream of through passenger trains between London or Paris and India, with sleeping cars and full dining facilities, but it seems unlikely that these could be operated profitably as anything more than luxury tourist trains, as it would be difficult for rail to compete with air travel for ordinary traffic on price or time.
Although it is possible to travel from London to India by rail for around £500 each way, the journey time is around 16 days, even with good connections between very infrequent trains. For example, PR's mixed train between Zahedan and Quetta only runs twice a month, taking almost 30 h to cover the 734 km, and is frequently cancelled as a result of security concerns in Baluchistan. It is a far cry from the 4½ days envisaged by Low and Thomas, who postulated an average speed of 80 km/h.
Discounting end-to-end business, there is still scope to develop shorter-distance passenger traffic along different sections of the corridor. But for these to succeed, work is needed to improve the quality of rail operations, even in eastern Europe where services between Budapest and Istanbul leave much to be desired. Meanwhile, as we reported last month, Iran is investing heavily in upgrading and expanding its rail network, and Turkey's railways are developing rapidly.
Nevertheless, the completion of this corridor marks a significant milestone in the evolution of Asia's railways and as such deserves to be celebrated.