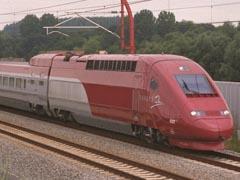 BELGIUM: Ceremonies on December 8 at the Dutch-Belgian border near Noorderkempen and outside Brussels Midi station marked the completion of the Belgian high speed network, which forms a star of four lines. Planning for the first line from the French border to Brussels began back in 1988.
From December 13, Thalys trains joined DB's ICE3s in using LGV3 between Chênée near Liège and Walhorn, close to the German border. Thalys also switched Brussels - Amsterdam trains to LGV4 and HSL Zuid, allowing the operator to reduce standard journey times between the two cities by 49 min. Brussels - Köln journeys are cut by 29 min to 1 h 47 min. Whilst Thalys trains are permitted to operate at 300 km/h on high speed lines in Belgium, DB's ICE3s remain restricted to 250 km/h amid concerns over damage caused by excessive downforce and flying ballast.
Speaking on a special Thalys train returning guests from the Dutch border to Brussels, SNCB Chief Executive Marc Descheemaecker said that he hoped V250 trains between Brussels and Amsterdam would begin 'in December 2010 at the latest, and earlier of possible' once delays with the delivery of the trainsets from AnsaldoBreda have been resolved.
However, Infrabel CEO Luc Lallemand confirmed that there was no business case for construction of a 300 km/h line from Antwerpen to Brussels, adding that enhancement of the existing line would be limited to bridge replacement and construction of the Mechelen bypass, part of the Diabolo project. He admitted that passengers were 'unlikely' to notice as the work would accelerate journeys by only '2 to 3 min'