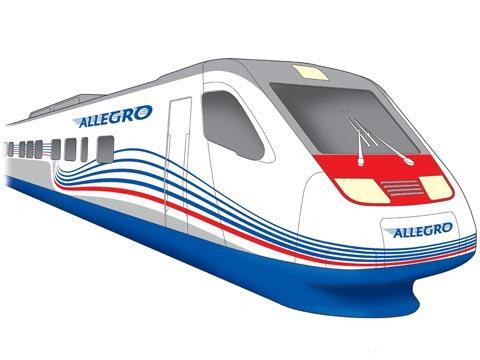 EUROPE: Karelian Trains has confirmed that the upgraded service between Helsinki and St Petersburg to be launched in 2010 is to be branded Allegro. The joint venture of VR and RZD chose the Italian word meaning 'fast' as it is internationally known and pronounceable in both Russian and Finnish.
The introduction of a €120m fleet of four dual-voltage Alstom Pendolino trains and undertaking border formalities on the move will cut 2 h from the current 5½ h journey time, and the frequency will be increased from two to three and then four daily return services.
The seven-car 1 520 mm gauge trains ordered in August 2007 will be a variant of VR's S220 design. They will be capable of 220 km/h running, however upgrading of the Lahti - Luumäki - Vainikkila line in Finland will not be completed until 2011, when journeys will be cut to 3 h. A new electrified line between Petäjärvi and Kamennogorsk will be completed in 2010, and freight traffic will be re-routed onto the Rutshji - Petäjärvi - Kennogorsk - Vyborg line.
Karelian Trains forecasts that cross-border passenger volumes will triple within five years. In 2007, the existing Sibelius and Repin trains carried 230 000 passengers, of whom around 60% were Russian, 30% Finns and 10% others.