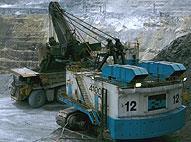 INDONESIA: Mining company PT Freeport Indonesia has awarded Alstom a contract worth around €90m to supply railway systems and train control equipment for a mining railway in West Papua.
Alstom said on July 28 that it would supply track, catenary, electrical substations, signalling and telecoms equipment for the internal railway at PTFI's Grasberg gold and iron ore mine. An initial 19 km single-track line is envisaged, of which 15 km would be underground.
Situated at an altitude of 4 000 m in a mountain range, Grasberg is already one of the world's largest opencast mines, extracting 240 000 tonnes per day. Staff and materials are currently transported around the site by lorry, conveyor or cable car, but PTFI plans to expand by exploiting nearby underground seams.
The proposed railway would be used to move workers, mining equipment, explosives and rubble between three railheads beneath the mountain range and a logistics base on the surface. Alstom has been contracted to ensure the railway operates 24 h/day, seven days a week, with availability of 99% or better. Maximum line speed would be 40 km/h. Alstom's Atlas communications-based train control equipment will provide interlocking, train location and train protection functions.
'This is a first for Alstom Transport', commented Dominique Pouliquen, Executive Director for Asia-Pacific at Alstom Transport. 'We have never worked for a mine before in this region. We hope this project could become a standard-setter in Indonesia.' The first trains are scheduled to run in July 2013.