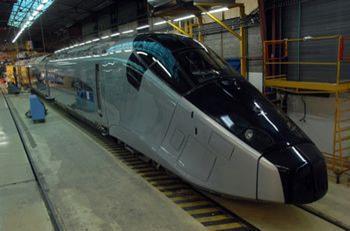 THE AUTOMOTRICE à Grande Vitesse demonstrator trainset was unveiled at Alstom's La Rochelle plant on February 5, watched by French President Nicholas Sarkozy and invited guests.

Designed for a running speed of 360 km/h, Alstom's next generation high speed train combines articulation with distributed drive. According to the manufacturer the layout offers operators great flexibility when ordering trains, with models from seven to 14 carriages and 250 to 650 seats available. Articulation will also 'substantially lower' maintenance costs.
Two of the AGV's articulation sections feature a structural element formed of composite materials. This is a transverse beam in the form of a shallow U that rests on the air suspension. Use of the composite material gives a weight saving of more than 700 kg compared with steel.
The first AGV customer will be Italian open access operator Nuovo Trasporto Viaggiatori, which has placed a €650m firm order for 25 trains with options for a further 10, and has signed a maintenance contract with Alstom. Production of the first trains for NTV will begin in mid-2008, for delivery from 2010 onwards.
Patrick Kron, Chairman & CEO of Alstom, said at the unveiling 'we have developed this train using our own funds, a very unusual approach in the railway industry, because we understood that the market for very high speed rail travel was about to diversify. In order to maintain our leadership, we needed to broaden and update our range of products. The AGV has arrived on the market just at the time when very high speed rail travel is undergoing a new expansion phase, not only in its traditional markets, but also in many developing countries.'
Read Railway Gazette International's exclusive report on the AGV in the September 2007 issue