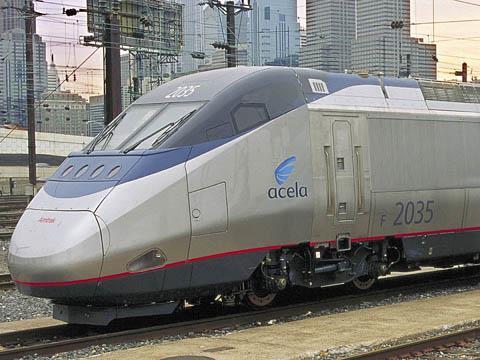 USA: Amtrak and the California High Speed Rail Authority held a joint event at Washington Union station on January 17 to issue a joint Request for Information with a view to the procurement of a common fleet of high speed trains.
The partnership agreement is intended to help advance both the rebuilding of the Boston – New York – Washington, DC Northeast Corridor and the development of an 800 km Californian network by establishing 'a US standard' for high speed passenger rolling stock which could be 'manufactured and supplied domestically and produced for the rest of the world'.
Amtrak announced in December that it had abandoned plans to lengthen its existing Acela Express trainsets, used on premium Northeast Corridor services, in favour of procuring an entirely new fleet.
According to Amtrak, 'record-setting' Northeast Corridor ridership over the past decade has influenced its intention to purchase an initial batch of 12 trains with capacity for between 400 and 600 passengers. These would augment the existing Acela fleet of 20 six-car trains. A subsequent order 'in the early 2020s' would then replace the existing vehicles. Amtrak is seeking a distributed-traction trainset capable of operation at up to 240 km/h on the existing line and 350 km/h on any subsequent new alignment.
Similarly, CHSRA requires dedicated rolling stock to operate the 210 km Madera – Bakersfield first phase of its planned San Francisco – Los Angeles route. The authority is seeking a 200 m long trainset suitable for 350 km/h operation, seating between 450 and 500 passengers.
The Federal Railroad Administration says it encouraged Amtrak and CHSRA 'to work together collaboratively' following discussions by its Railroad Safety Advisory Committee's pan-industry Engineering Task Force about ways to facilitate the 'procurement of lighter weight, faster and more energy-efficient rail equipment'.
'This is a natural fit since Amtrak's Northeast Corridor and California will be the bookends for American high speed rail', explained CHSRA Chief Executive Jeff Morales. Federal Railroad Administrator Joseph Szabo said the agreement could 'create ripples through the domestic supply chain' by encouraging international suppliers to establish factories in the USA.
Amtrak President Joseph Boardman and Vice-President, Northeast Corridor Development, Stephen Gardner discussed their vision for the route in the September 2012 issue of Railway Gazette International, available to subscribers via our digital archive.