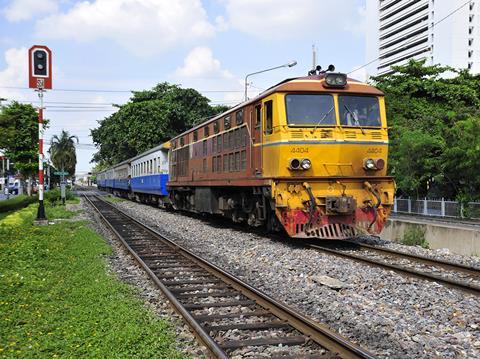 THAILAND: Comprising a quadrilateral partnership between academia, government, industry and non-governmental organisations, the Asean International Rail Academy has been established at Kasetsart University in Bangkok.
Due to be fully operational by November 2016, AIRA is intended to build upon the existing railway engineering work undertaken by the KURail faculty at Kasetsart University; AIRA's objective is to lead rail research and education in the Asean community.
The academy's strategic purpose has been agreed by an Industry Strategy Group which brings together a range of domestic and international partners. These include top-tier suppliers such as Alstom, Bombardier, Kyosan and Pandrol, railway operators including State Railway of Thailand, JR East and State Railways of Laos, plus metro operators such as SMRT and BTS Skytrain.
Kasetsart University has also been developing links with numerous UK organisations to help accelerate the establishment of AIRA; among those involved are UKTI, SNC Lavalin (Interfleet), the British Council and New-Rail, the railway faculty at Newcastle University. Other academic partners include Stockholm's KTH, Sangyo University in Osaka, the Korean National Transport University, Beijing Jiaotong and the University of Valenciennes.
AIRA intends to offer a range of both vocational and academic courses. Kasetsart already provides vocational qualifications in partnership with SRT's engineering school, and it offers five undergraduate courses in railway disciplines. It is also planning Master's courses in Innovation & Technology, and Rail Freight & Logistics, which would be provided jointly with NewRail.
Among its specific research projects, KURail has already completed a study on improving the suspension design of freight wagons, and it is assisting with work to design the southern section of Bangkok's Purple metro line (p22). Potential future research projects include rail wear on the BTS metro network, derailment mitigation with SRT, and analysis of metre gauge vehicle dynamics.
The creation of AIRA calls for substantial investment in facilities at KURail. Among the equipment to be installed in its refurbished buildings is a full-size bogie rig, a driving simulator, a model vehicle dynamics rig and a section of track with pointwork. This hardware is to be supported with 3D printing technology plus various IT tools including LSDyna, Madymo and Pamcrash. AIRA also intends to apply for membership of UIC and Cenelec.