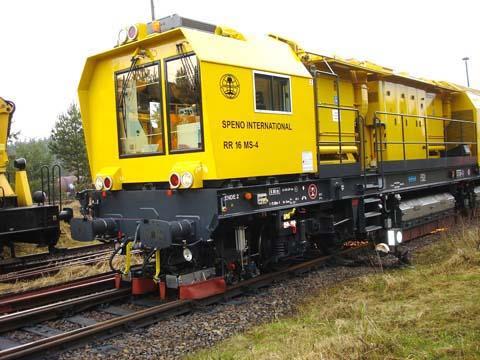 NETHERLANDS: Lloyd's Register Rail Europe has developed a low-cost variant of the ATB on-board automatic train protection equipment that will be mandatory from January 2009 for all trains running at above 40 km/h in the Netherlands.
Lloyd's Register is using the ATBE product to target the operators of track machines and shunting locomotives that are unlikely to cover more than 10 000 km annually. ATBE does not repeat the lineside signal aspects in the cab, but rather uses four lights with buttons and an indicator to inform the driver of the maximum permitted speed. Brake pipe pressure is used to bring the train to a halt if required. ATBE also provides ATBVv braking curve supervision for locomotives.
Each driving position requires a vehicle-mounted ATBE control unit, measuring 60 x 110 x 170 mm, and two antennae for data transfer. The control equipment uses flash memory for data recording, avoiding the installation of a full-size monitoring unit. Speno, Strukton and Volker Rail have equipped infrastructure vehicles with ATBE, whilst heritage passenger train operator VSM has fitted it to a Class 2200 locomotive.