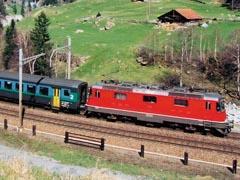 SWISS Federal Railways and the Federal Transport Ministry have agreed a further programme of enhancements to the national rail network (RG 12.05 p771). Details were announced by a government-SBB planning committee on April 7.
Known as ZEB (Zukünftige Entwicklung der Bahnprojekte - Future Development of Rail Projects), the plan envisages spending SFr4·7bn on a core programme by 2030. There is the prospect of SFr1·5bn for additional work, subject to the out-turn cost of the NEAT base tunnel projects which are proving more expensive than anticipated.
The ZEB core programme builds on the Bahn 2000 concept of services meeting at major hubs at hourly or half-hourly intervals. Funds do not suffice for the major schemes envisaged earlier, such as completion of double track through the Lötschberg base tunnel, construction of a second Heitersberg tunnel between Mellingen and Killwangen-Spreitenbach and the Brüttener tunnel between Zürich Airport and Winterthur.
The programme therefore concentrates on about 50 smaller enhancements calculated to bring the maximum benefit for the lowest cost. SBB points out that ZEB assumes completion of schemes already underway or committed such as the Gotthard base tunnel and new lines from Genève to Annemasse and Mendrisio to Varese.
Also built-in to the proposal is the completion by 2015 of a 9·6 km cross-city line from Zürich Altstetten to Oerlikon costing SFr1·5bn. Serving a four-track station at Löwenstrasse below Zürich Hbf, this will be heavily used by long-distance trains, releasing capacity in the terminal platforms above.
The principal objective is to cut journey times between further city pairs to 60min or less. Bahn 2000 saw the Bern - Zürich timing cut to 60min, and the same is now envisaged for Lausanne - Bern, Biel - Zürich and Zürich - St Gallen. Timings on SBB's principal corridor from Genève to St Gallen would be cut from the present 4h to 3h 30min via Biel or Bern. Service frequency will be stepped up on several key routes.
The most significant ZEB projects are:
Reconstruction of the western approach to Lausanne with a fourth track between Renens and Lausanne (SFr270m);
Improvements at Bern with an extra platform and separation of traffic flows at Wylerfeld (SFr210m);
Modifications of the layout in the Olten area, including an overtaking loop in the main station and construction of a fourth track from Dulliken to Däniken;
Improvements at Liestal on the approaches to the Adlertunnel (SFr150m);
Construction of the Eppenberg tunnel to form a Schönenwerd bypass on the Aarau - Däniken main line (SFr400m);
Construction of the Chestenberg line between Rupperswil and Gruemet (SFr1bn);
Upgrading of the Simplon main line in the Valais for higher speeds (SFr100m).
Infrastructure improvements to give the required 60min timing between Lausanne and Bern are deemed too costly, and SBB proposes to use tilting trains. Connections at Lausanne, Biel and St Gallen will be on the hour and half-hour. Good connections will also be provided at Visp at the southern end of the Lötschberg base tunnel.
ZEB has been designed to allow further development of S-Bahn services, and several projects will benefit freight traffic; these include faster services between the yards at Limmattal (Zürich) and Lausanne, as well as more capacity on north-south corridors.
Costings and project details are to be finalised by the end of this month, so that a draft programme can be drawn up this summer and approved in the autumn with a view to initiating legislation by the end of the year. A referendum is required, and the aim is to have this passed in the second half of 2007. Given existing commitments, the earliest start date for the work is 2012-13, with all projects completed by 2030.
Concerns have been raised about the lack of funding for Switzerland's 'private' railways. Transport Minister Max Friedli told the Mittelland Zeitung on April 7 that rapid and systematic improvements are needed on lines serving Alpine areas if a catastrophe is to be avoided. 'It is five to twelve', he said.