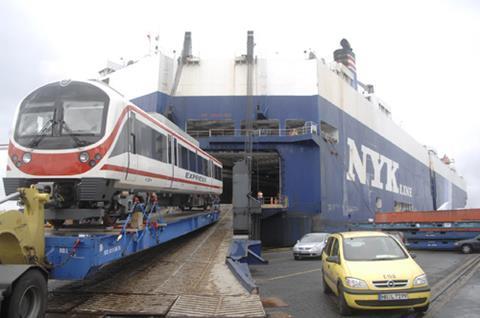 THE FIRST two of the nine Desiro electric multiple-units which are being built for Bangkok's Suvarnabhumi airport rail link left the German port of Bremerhaven for the five-week journey to Thailand on September 8. The trains sailed onboard the cargo ship MV Pegasus Leader and are expected to arrive at the port of Laem Chabang in mid-October.
Derived from the Class 360/2 Desiro UK design used on Heathrow Connect services to London Heathrow airport, the 25 kV 50 Hz standard gauge EMUs were built at the Siemens Transportation Systems plant in Krefeld and have been undergoing tests at the Wegberg-Wildenrath test centre since March.
Siemens is supplying a total of nine trainsets for the Bangkok airport rail link as part of the consortium responsible for the turnkey Airport Rail Link project under a contract signed in January 2005. The units now at sea are two of four which will have four cars for use on non-stop shuttles between the downtown City Air Terminal at Makkasan and Suvarnabhumi airport. A further five three-car units will be supplied for the City Line commuter service, which will serve eight stations along the route. All nine trains will be delivered by December 2007, and test running is now scheduled for the end of March 2008.
Plans to appoint an independent concessionaire to run the 28 km elevated line have been dropped, and the line will now be operated by State Railway of Thailand.