November should see completion of a 110 km addition to QR's extensive 1 067 mm gauge heavy haul network feeding the port of Gladstone. This is the major element in a A$335m enhancement of the Blackwater coal routes, and more investment will follow as demand rises for low-ash thermal coal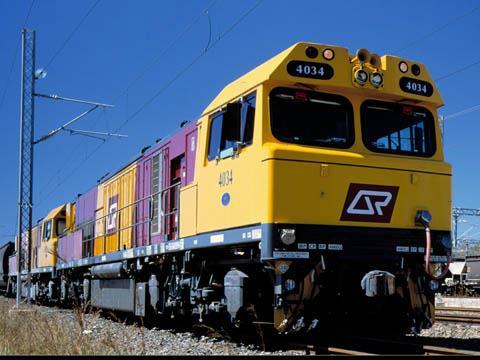 Bob Scheuber, Chief Executive Officer, QR
THIS YEAR QR expects to carry more than 150 million tonnes of coal. This is not only a record - which happens most years - but 40% more than five years ago.
Growth is set to continue next year as the massive Rolleston mine ramps up annual production to 8 million tonnes, three-quarters of which is for export and the rest for consumption in two power stations supplying the industrial complex that has developed around the port of Gladstone in central Queensland.
To link the new mine to the port, QR signed a deal in May 2004 with Swiss-based mine owner Xstrata to build the so-called Bauhinia Regional Rail line at a cost of A$240m. Construction of the 110 km branch line and and operation of the coal trains was tendered on a competitive basis, the first time this has happened in Queensland. The Bauhinia spur is the longest stretch of railway to be built in Queensland since the Blair Athol line was completed in 1983.
In addition, almost another A$100m is being invested by QR as part of the Blackwater System Enhancement Project that will also benefit the rest of the Blackwater coal network. Key element is 30 km of double-tracking to raise capacity. The existing Kinrola spur, from which the new line will diverge, is being relaid to a higher standard, and a third balloon loop for unloading will be added at Gladstone. New balloon loading loops are also being created at other mines feeding into Blackwater from the coal-rich Bowen Basin.
Rolleston mine has an estimated 173 million tonnes of coal reserves and around 600 million tonnes in its tenements. The deal with Xstrata, all aspects of which were open to competitive tender, requires QR to finance, own, manage and operate the new railway.
Construction of the line began in June 2004. QR is working with private sector partners Abigroup (the prime contractor), John Holland (bridge construction) and Connell Wagner (civil design). The specialist areas of track construction, telecommunication design and signalling are being carried out by QR using in-house staff.
Under the agreement, QR Network Access is responsible for providing and managing the infrastructure. A separate agreement between Xstrata and QR National - the railway's coal and freight division - covers the operation of trains on the line. Xstrata will pay track access fees for each train using the 422 km route between Rolleston and Gladstone, providing a revenue stream from which QR Network Access will recoup its capital investment in building the branch.
The expectation is that next year Rolleston will dispatch an average of three trains a day, each carrying 7100net tonnes of coal in 86 wagons grossing 104 tonnes. Although the main line from Gladstone to Blackwater and Emerald is electrified, trains from Rolleston will be hauled throughout by three Class 4000 diesel locos rated at 3000hp, producing a gross train weight of 9300 tonnes including traction. The design train length is 1·65 km.
Bauhinia Regional Rail Project
Predictions of the growth in demand for Queensland's coal - spurred largely by massive industrial growth in China and India - led the state government to announce in early 2005 fast track planning for yet more rail infrastructure projects in the Bowen Basin. Queensland is already the world's largest single coal-exporting province, and will retain this status aided by the completion this year of the massive Bauhinia project.
Bauhinia is not just about building a railway track. As the owner and manager of the line, QR will be living with the consequences of what it builds. QR already operates the largest heavy haul system in Australia, and many valuable lessons learned over the years have been applied to this latest project.
QR has long been a partner in the export coal industry - in the past decade QR has invested about A$726m in coal network projects. But the Bauhinia project takes QR's involvement a major step further. When completed, it will have substantially expanded the Central Queensland rail network and greatly enhanced existing infrastructure in readiness for increased tonnages.
Just as importantly for the region, the project has created about 400 jobs in the construction of the railway plus flow-on employment, and it will provide a major asset and catalyst for growth in other industries. Grain growers in the region, for instance, are expressing interest in using the line to Rolleston.
Currently the Blackwater network serves about a dozen mines and carries coal not only to the port of Gladstone but to Stanwell and Gladstone power stations. This network moved 40 million tonnes of coal in the financial year ended June 30 2004, and the forecast for 2009-10 is in excess of 59 million tonnes.
The Central Queensland Port Authority is planning a major expansion that includes construction of the additional unloading loop at Gladstone. Capacity at the port is expected to rise from 45 to 65million tonnes a year, with the rail unloading rate enhanced to 6000 tonnes/h.
Predictions for further growth in the demand for Queensland coal have led the state government to announce fast-track planning for other major rail infrastructure projects in the Northern Bowen Basin, to the north of Blackwater. Combined with the current activity generated by the Bauhinia Regional Rail Project, Central Queensland is set to expand its rail and port network substantially in the coming years.
Past the halfway point
Since construction started in June 2004, QR has worked closely with its private sector partners to meet tight timeframes that should see the 110 km line to Rolleston in operation by November.
As at March 31, major earthworks were almost 100% complete and major cuttings about 90%. Excavation from cuttings will total 2·4million m3. The construction of 19 bridges as well as culverts was more than 70% finished. The longest structure takes the line across the Comet River on seven spans, each about 15m long.
Tracklaying has commenced near the end of an existing 8 km spur serving the Kinrola mine, which leaves QR's main line a short distance west of Blackwater. The erection of 215 km of fencing has also begun.
Like most of QR's 9800 km network - Australia's largest - the single track to Rolleston is of 1067mm gauge and follows current standards adopted for heavy haul coal lines: 26 tonne axleload, 50 kg/m rail and 80 km/h line speed. The number of concrete sleepers required is 160000.
QR has worked closely with local indigenous communities to implement a cultural heritage management plan to protect culturally significant sites and artefacts in the area.