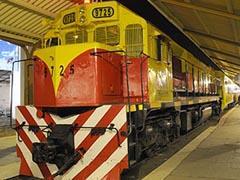 ARGENTINA: The federal government has begun the process of returning the metre-gauge Belgrano network to public ownership, by means of a decree published on October 31. The concession awarded to Belgrano Cargas SA in 1999 was to be terminated within 90 days, while the 'state of emergency' under which the railway has been operated by SOE since 2006 (RG 9.06 p490) was extended until December 31.
The Ministry of Federal Planning, Public Investment & Services has been directed to transfer train operations to Operadora Ferroviaria, the state-owned company created under legislation passed earlier this year (RG 4.08 p206). Infrastructure will become the responsibility of Administración de Infraestructuras Ferroviarias, created at the same time.
Under the first phase of a government-funded programme costing a total of 45m pesos to restore long-disused sections of the Belgrano network to operating condition, the route between Avia Terai and the river port of Barranqueras in Chaco province was due to re-open to traffic this month. Facilities for handling export cargoes including grain and fruit at Barranqueras are to be developed under a separate programme costing 70m pesos.