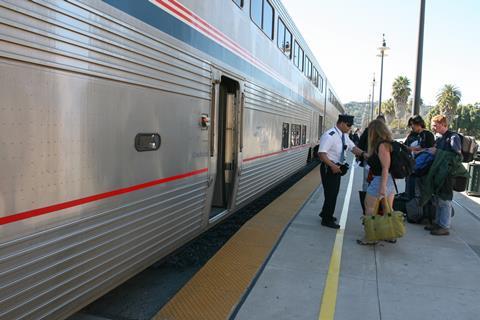 USA: Joseph Boardman has been appointed President & Chief Executive Officer of the National Railroad Passenger Corp for a one-year period with effect from November 26. He takes over as the head of Amtrak from Chief Operating Officer William Crosbie, who has been acting CEO since the resignation of Alexander Kummant earlier this month.
The appointment of Boardman is on an interim basis while the board searches for a permanent replacement for Kummant, who left following a reported disagreement with the board over financing provisions in the Amtrak reauthorisation legislation recently approved by Congress.
Boardman has worked in transport for 34 years, moving to Amtrak from the Federal Railroad Administration where had been Administrator since April 2005; he was also the Department of Transportation's designee on the Amtrak board. Prior to his time with the FRA he was Commissioner of the New York State Department of Transportation from July 1997, where he was involved in the operation of Amtrak services in the state.
He has also been Chief Operating Officer of transport management company Progressive Transportation Service Inc, was Chairman of the Executive Committee of the Transportation Research Board in 2005, and chaired the American Association of State Highway & Transportation Officials' standing committee on rail transportation in 2000-05.
'Amtrak is at a critical juncture and needs a vigorous management vision and ability to take advantage of this unique time', said board Chairman Donna McLean. 'The board has unanimously chosen Boardman in this capacity because we have complete confidence that his depth of experience and leadership skills will allow Amtrak to maintain growth and implement the requirements of the recently enacted authorisation legislation'.