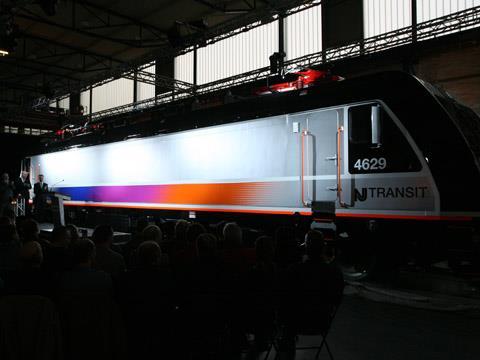 USA: The first of 36 type ALP-46A electric locomotives being built for New Jersey Transit was ceremonially handed over at Bombardier Transportation's Kassel plant in Germany on November 12.
The ALP-46A locomotives were ordered at cost of US$317m as a follow-on from 29 ALP-46 locomotives which have been in service on passenger trains between New Jersey and New York City since 2002.
The ALP-46A has more modern power electronics, and the top speed has been increased from 160 km/h to 200 km/h. They incorporate power, control and data cables supplied by Nexans.
Bombardier will also supply 26 electro-diesel variants, the ALP-45DP, to enable NJ Transit to provide a one-seat ride into New York Penn Station from non-electrified lines. Montréal suburban operator AMT has ordered 20 of these dual-mode locomotives.