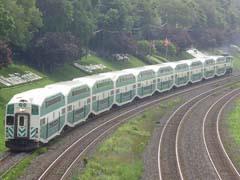 GREATER TORONTO Transit Authority has awarded Bombardier Transportation a five-year contract to operate GO Transit commuter rail services, valued at C$131·3m. GTTA announced on November 9 that Bombardier's bid had been selected over tenders from SNC-Lavalin and Veolia Transportation Rail.
From June 2008 the company will be responsible for providing crews and running 169 trains per day on six of GO Transit's seven routes, replacing Canadian National Railway. CN crews will continue to operate trains on the Milton line. The deal includes optional extensions for a further 15 years, which could bring the total value to C$487·9m.
Bombardier has been maintaining GO Transit's locomotive fleet and more than 400 bilevel coaches for more than 10 years. In recent months GO has been plagued by reliability problems, partly due to labour troubles and an ageing loco fleet. The contract with Bombardier will provide a stronger focus on customer service, with penalties if trains do not run because of crew shortages.
The GO rail network covers more than 360 route-km, with 181 trains carry approximately 165 000 passengers per day from 57 stations. On November 6 test trains began running on an extension of the Bradford line to Barrie, in preparation for the start of revenue services in January.
Meanwhile, Siemens Canada has been awarded a C$280 m contract to design, supply, install and commission new signalling and communications systems at Toronto Union Station, replacing equipment dating from the 1920s. This will permit a further increase in GO services, as well as improving reliability and operational flexibility. Work is due to begin this month, for completion in 2014. The work forms part of the C$1bn Transit Rail Improvement Programme being funded by the governments of Canada and Ontario and Greater Toronto Area municipalities through the Canada Strategic Infrastructure Fund.