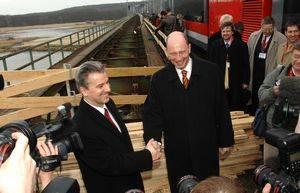 EUROPE: Polish Transport Minister Czezary Grabarczyk and his German counterpart Wolfgang Tiefensee signed a treaty on February 26 that provides for repair or replacement of 13 bridges over the Oder and Neisse rivers forming the border between the two countries.
The replacement bridge over the River Oder should see its first trains in December.
Photo: DB AG/Ralf Kranert
The deal took immediate effect, allowing work to start at once on construction of a new double-track bridge across the Oder at Frankfurt on the Berlin - Warszawa main line. The €25m structure will replace a bridge subject to severe speed restrictions where one track had to be taken out of use on safety grounds in 2005. The 442 m long replacement has a main span of 104 m, and this will be moved into position during a six-week closure of the line starting on October 17 - completion is envisaged in time for the start of the next timetable in December.
The cost of maintaining the bridges will be shared by the two countries under the treaty, but responsibility for each individual bridge will be allotted to either Poland or Germany.