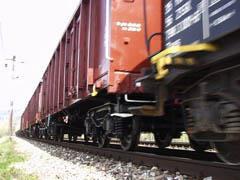 EUROPE: Testing will begin this month of two boxes developed to carry automotive components between Volkswagen's car plants at Wolfsburg in Germany and Kaluga, 150 km southwest of Moscow.
The box was designed by Schenker Auto­motive Railnet in partnership with Volkswagen Logistics. The inside loading height of 3 m can accommodate automotive industry loading racks which are too large for the 2·69 m interior of a 9 ft 6 in intermodal container.
There are two versions of the box, a curtainsided version with movable side panels and a Wingliner with hydraulically-operated side panels. The maximum loading is 26·5 tonnes, and the boxes can be stacked two high.
'This innovation is intended to simplify and accelerate processes for Volkswagen, a key account for DB Schenker', said Axel Marschall, head of DB Schenker Rail's automotive business. 'These transport boxes are highly flexible and enable novel solutions, both in terms of the transported volumes as well as upstream and downstream cross-modal loading and unloading processes.'