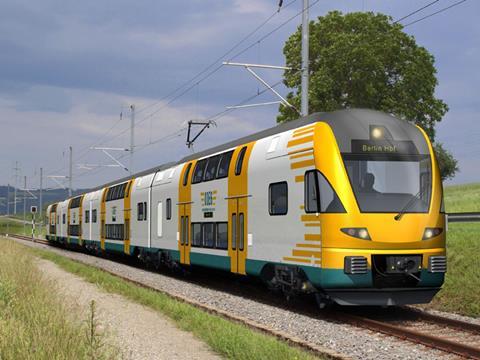 GERMANY: Ostdeutsche Eisenbahn GmbH has ordered 23 new trainsets from Stadler Pankow GmbH to operate regional services in Berlin-Brandenburg from the end of 2011. Including the first series build of double-deck EMUs for the German market, the €146m deal is described by Stadler as the largest order in the history of its Berlin-based business unit.
A subsidiary of BeNEX GmbH (owned by Hamburger Hochbahn AG and Babcock & Brown) and Arriva's Prignitzer Eisenbahn GmbH, ODEG has been selected to operate Netz Stadtbahn regional routes around the German capital under two out of four concessions awarded by the Berlin-Brandenburg transport authority in mid-2009. ODEG will take over Regional Express routes RE2, RE4, RB35, RB33 and RB51 in phases.
Under the deal, ODEG has selected Stadler Pankow to supply three batches of rolling stock. The largest part of the order covers 16 four-car double-deck EMUs, which are to be delivered during 2012. The company will supply a single RS1 Regio-Shuttle diesel railcar and six GTW 2/6 two-car DMUs, which will enter service with the December 2011 timetable change.
Commenting that 'this order represents another important milestone for us', Stadler Pankow GmbH Director Michael Daum, said it would 'enable us to expand our production site in Berlin-Pankow even further. We are also planning to establish our own bodyshell production in the region', he added.
Similar to the double-deck trainsets being built for the Zürich S-Bahn, the Dosto double-deck EMUs will be derived from Stadler's Flirt low-floor EMU family. Each four-car unit will have 420 seats, including 24 for first class. There will also be four wheelchair spaces and 36 designated bicycle spaces as well as three toilet modules, one of which will be disabled-accessible.
The 71-seat RS1 will be an updated version of the RegioShuttle railcars already operated by ODEG, powered by two diesel engines that comply with Euro Stage IIIb exhaust emission requirements (Stage III b). The GTW 2/6 sets will each have seats for 100 passengers; all the diesel units will each have two wheelchair spaces and a disabled-accessible toilet.