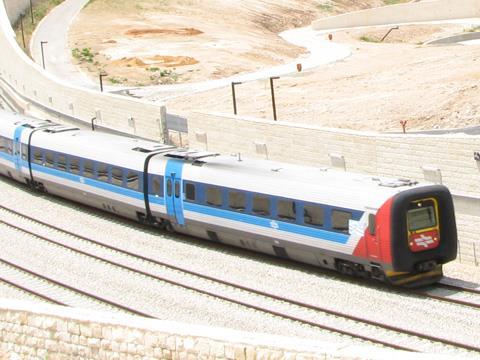 ISRAEL: According to current projections, Israel Railways expects to carry more than 37 million passengers this year, a 5% increase on the 35·1 million handled in 2008, and more than eight times the 4·3 million recorded in 1994. Whilst the economic downturn has slowed the rate of growth, ISR believes more passengers will turn to rail as a result.
Last month the government presented its budget to the Knesset, allocating US$7·25bn for railway develop­ment over the next three years. This includes completion of the line from Tel Aviv Hahagana to Rishon Le-Ziyyon West by 2011-12, and to Plashet on the route to Ashkelon by December 2012. Double-tracking from Tel Aviv to Kefar-Sava is to be finished by June 2010, doubling and realignment of the Ramla – Be'er Sheva line by March 2011 and doubling of the Qiryat-Motzkin – Nahariya line by September 2011.
Completion of the direct Ashkelon – Be'er Sheva line is due in June 2012, followed at the end of that year by a cut-off from Kefar-Sava to Shefayim, reducing journey times on the Tel-Aviv – Haifa route by 10 min. Around $1bn is to be allocated for new rolling stock. However, the US$1·7bn A1 fast rail link to Jerusalem is stuck in the courts following appeals by environmental protestors, and will not now be finished before March 2016. And it is not clear if the US$328m electrification programme will be completed by December 2015 as planned.
Meanwhile, Prime Minister Benyamin Netanyahu has announced a further US$12·5bn railway investment programme for 2012-20. This envisages rail links from Metula near the Lebanese border in Upper Galilee to Eilat on the Red Sea, plus revival of the Hedjaz Railway branch between Haifa and the Jordanian border.
According to Netanyahu, the Israeli rail network is '200 years behind those of the developed world', and he believes that fast rail links are essential to spread economic development to the country's peripheral regions, including rail freight services to support industrial development. The proposal is being challenged by the Ministry of Finance, which favours light rail for urban areas and discounts the idea of rail freight over short distances.