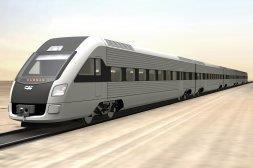 SAUDI ARABIA: On July 4 Spanish rolling stock manufacturer CAF announced it had signed a €104·9m contract to supply Saudi Railways Organisation with eight 200 km/h passenger trainsets.
Each set will be formed of a diesel-electric locomotive and five steel-bodied coaches, designed to operate in desert conditions and temperatures of up to 55°C. The coaches will provide VIP, first and second class accommodation, with a buffet and facilities for disabled passengers. CAF will also equip a 'new and modern' depot and will be responsible for maintaining the trains for the first four years.
SRO called tenders for the trains in early 2006, seeking either push-pull sets or a DMU design.