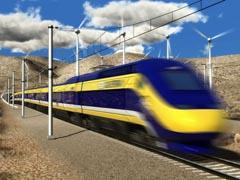 USA: The California High Speed Rail Authority launched a revised 'draft business plan' for its proposed 832 km Phase I of a 400 km/h network connecting San Francisco with Anaheim and Los Angeles.
In announcing what it described as a 'foundation for an economically-viable high speed rail system', CHSRA has increased its projection for the total capital cost from an initial $43bn to $98·5bn, with completion of Phase I put back from 2020 to 2033.
The authority has also revised the funding model to allow for the construction phase to be funded entirely from public-sector sources. However, it expects private funding to be generated from property and other related development around stations, and no operating subsidy is envisaged.
In 2008 Californian voters approved an initial tranche of funding that allowed the state to issue up to $10bn in bonds, of which $501m has already been sold and a further $2·6bn committed, whilst the federal government has already contributed $3·6bn. This package is expected to allow construction to begin next year on an initial 208 km segment in the Central Valley from 'just north of Bakersfield to just south of Merced'.
Subsequent phases would see the line extended progressively north and south as finance becomes available; electrification of the Caltrain corridor into San Francisco would allow high speed services to use existing tracks to give a 'one seat ride' before a dedicated line is built into the city.
Defending the budget increase, CHSRA pointed to a forecast investment of $170bn in road and airport infrastructure 'by mid-century' to meet expected population growth. Federal Railroad Administrator Joseph Szabo told a conference in New York on November 1 that the revised programme 'didn't sugar-coat anything', and that the project 'is substantially more cost-effective' than non-rail alternatives.
A period of public consultation follows publication of the business plan prior to its submission to the State Legislature in January 2012.