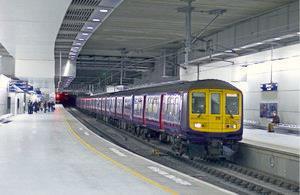 UK: Work to upgrade CCTV security systems at the major stations managed by Network Rail has moved into a second phase, which will bring the total number of cameras in use to more than 4 000.
The £8m second phase covers refurbishment of the CCTV installations at Birmingham New Street, Liverpool Lime Street, Leeds, Manchester Piccadilly, Glasgow Central, Edinburgh Waverley and Gatwick Airport. Being undertaken by Siemens Building Technologies Security Systems, the work includes the installation of new cameras and overhaul of the supporting infrastructure.
It follows an earlier programme to upgrade Network Rail's 10 major stations in London, which were modernised by the same company in 2005 at a cost of £9m. As well as the installation and integration of 2 500 cameras, the first phase included the introduction of a digital recording system, allowing NR and the British Transport Police to control any camera from any station.
The second phase includes replacement of the optic fibre communications infrastructure at the seven stations and the installation of more than 1 400 new cameras, as well as further digital recording systems and facilities to permit remote monitoring.
All station cameras will be cabled to local equipment rooms via a series of optic-fibre nodes, sited around the stations to gather images from cameras within a 50 m radius. Each station will have a local recording facility where images can be viewed live or played back later without interrupting current recordings. Live video from any network station will be viewable at any other, or from BTP offices both locally and in London.
The system includes interactive control maps, enabling an operator to select automatically all the cameras which view a particular part of the station as necessary.