TRACTION: Cegelec's Praha plant has established a strong market in updating Tatra tram cars with chopper controls.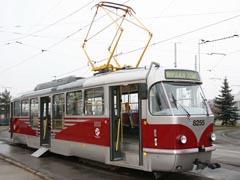 As a specialist supplier of electronic traction controls, substations and catenary systems, Cegelec Transport has established a strong niche in the global public transport market, recording a turnover of around €100m per year. In particular, the company's Praha plant has developed a market in supplying chopper controls and project management services for modernisation of tram and light rail vehicles.
Originally the contracting arm of Alstom, Cegelec operates in the fields of energy distribution, automation, IT, high-tension systems, mechanics and maintenance. As a whole, the group has around 25 000 staff and operates in 30 countries; turnover in 2007 was €3bn.
Cegelec started its move to independence in 1999 when then-owner Alcatel floated Alstom on the stock market. In July 2001 Alstom sold Cegelec in a leveraged management buy-out; this was followed by a second in 2006 which saw a 90% stake acquired by LBO of France. Corporate equity fund Qatari Diar recently announced that it had entered into exclusive negotiations to acquire LBO's shares, and the deal is expected to be finalised before the end of this year.
Overhead line equipment
Cegelec Transport has three main production units, which are currently being integrated more closely. Plants in Lyon and Rabat supply catenary and overhead line equipment, whilst Praha specialises in traction controls and substations for AC and DC electrification.
Recent catenary orders include 130 km of 25 kV overhead line equipment for the KTX high speed lines in South Korea, 1 000 km of 3 kV DC lines for Morocco and 65 km of 2 x 25 kV autotransformer-fed OLE for RFF's Haut-Bugey line upgrading between Bourg-en-Bresse and Bellegarde in France. In the light rail sector, overhead electrification equipment and signalling for the new line in Toulouse will come from Cegelec. The company recently delivered 14 'packaged' 750 V DC substations for RandstadRail in just 14 months: eight rated at 1·6 MW and six at 2 MW.
Choppers and inverters
Cegelec's Praha facility has a long and complex history. The Zlicin plant was opened by CKD Tatra a s in 1988, to replace the now-demolished Tatra factory at Smíchov as the main centre for tram building in the Comecon zone. From 1952 to 1990 Smíchov produced more than 20 000 trams of types T1-T6A2, K2, KT4 and KT8, at an average of 520 cars per year, with peaks of up to 900. Further cars were built at Zlicin in 1990-97, bringing Tatra's total production to 23 853. Technically these were all based on PCC licences and Westinghouse (US) technology. The most successful design was the T3, with 13 397 cars built from 1960 to 1997, followed by the T4 with 3 108 and KT4 with 1 407.
CKD Tatra did not manage to secure a place in the 'new world' after 1990, and finally went into receivership in 2000. But in 1992 it formed a partnership known as AEG.CKD Transportní Systémy. This did not generate much business, but brought Zlicin into a consortium with Siemens and Adtranz to build aluminium-bodied metro cars for Praha Line C. Siemens then founded Spolecnost Kolejovych Vozidel s r o as a wholly-owned subsidiary, which bought from the receivers on February 1 2002 the Zlicin site, factory and all of CKD Tatra's technical plans and product rights.
Thyristor chopper controls for the Tatra cars were supplied by CKD Trakce a s from 1973 until 1989-90, although without any regenerative braking ability. Each TV3 chopper fed two 45 kW motors. IGBT-based choppers, designated TV14, were supplied for the T6A5 prototype in Praha and the last T6A5 cars for Szeged and Sofia as well as the last seven KT8D5 in Praha and 12 modernised cars in Gera. These IGBT choppers also supply two motors in one bogie, but can regenerate braking energy.
Following the collapse of the Tatra business, the staff from CKD Dopravny systémy (formerly CKD Trakce) were taken over by GEC Alsthom to form a new business unit which eventually became Cegelec a s.
A new start
Based in a former maintenance shop for international passenger coaches, Cegelec a s continued the development of the TV Progress chopper and TV Europulse AC inverter that had begun in 1997. Using electronic components purchased from Mitsubishi, the company has converted more than 1 000 Tatra cars in various countries to chopper controls. This includes cars for Gera, Zwickau and Gotha in Germany. Compared to the old Tatra 'accelerator' drives - which work with motor groups in parallel and are not at all suited to stop-go operation - the chopper controls can cut energy use by 40% or more.
An important project now underway is the thorough modernisation of T3 and KT8D5 cars for Praha, where Cegelec is acting as a general contractor. As the most important public transport operator in the Czech Republic, Praha Transport has its own well-equipped workshop with 450 employees. Its fleet consists of 969 cars, of which 47 KT8D5 and 151 T6A5 cars date from the 1990s. The rest are T3 variants, of which 100 have been fitted with TV1 choppers. Another 390 T3s have now been equipped with TV Progress chopper and new static inverters.
a complete mechanical and electrical overhaul, with new door elements and new inverters, costs around €240 000, and is expected to extend the life of the cars by a further 15 years.
Under Cegelec's leadership, the KT8D5 articulated cars are being equipped with a low-floor centre section, new choppers and driving cabs with hand-operated controls and video cameras at a cost of €350 000 per car. The new centre-sections are coming from Pars Nova of Sumperk, now part of Škoda.
Praha also needs a batch of single low-floor cars to run its night services, so Praha Transport itself has built 12 new T3 cars with a central low-floor entrance, using reconditioned bogies, at a cost of just €275 000 each. This is a clever and cost-effective project.
The riding qualities of the well-maintained T3, T6A5 and KT8 cars are quite good, thanks to regular maintenance and renewal of the rubber elements in the resilient wheels. The only disadvantage is the limited number of entrances. On the line to Repy, the T3 cars ride much better than the new Škoda-built 14T low-floor cars.
Export orders
The company's latest orders for traction equipment cover the replacement of existing BBC GTO choppers in German trams dating from 1985-91. These include eight Stadtbahn M8C cars in Heidelberg and 11 GT8N cars for Freiburg. The cars are each being fitted with two air-cooled containers containing a new chopper, 275 kW brake resistor, fan and an auxiliary inverter. A new microprocessor-based control system is also being installed.
Cegelec is currently converting an M31 tram in Göteborg with IGBT choppers to replace the original ABB equipment. These cars date from 1984-92 but were subsequently fitted with a Schindler/SIG composite-bodied low-floor centre-section. The first converted car will be tested during the winter of 2008-09 and if it proves successful, the remaining 79 M31s are expected to be similarly rebuilt by 2012 at a cost of €270 000 per car.
Another potentially interesting project is the conversion to chopper operation of the 124 E2 cars in Wien, which were built as late as 1990. Cegelec is working with Bombardier to convert one car as a testbed. Cegelec also has its eye on the market potential in the former Soviet Union, where T3 cars still operate in 23 towns. In 1996 Moscow alone had 1 281 cars in service, of which a large proportion were T3s. Kiev had 820 T3s, Yekaterinburg 465, Odessa 435, and Riga 273. T4 and KT4 cars operate in L'viv (229), Vinniza (114), Kaliningrad (140) and Tallinn (130).
Meanwhile, Cegelec is supplying TV Europulse inverters for new Inekon trams being built at Ostrava for use in the Czech Republic; these cars have motors from the former CKD Pragoimex plant in Ostrava.
Static inverters form another strong market, and in total, Cegelec has sold 1 739 auxiliary inverters. One interesting application is the supply of SMTK 6·3 kVA inverters to replace rotary inverters in three Gent PCC cars. Along with two cooling fans, these inverters can be accommodated in the existing equipment case.