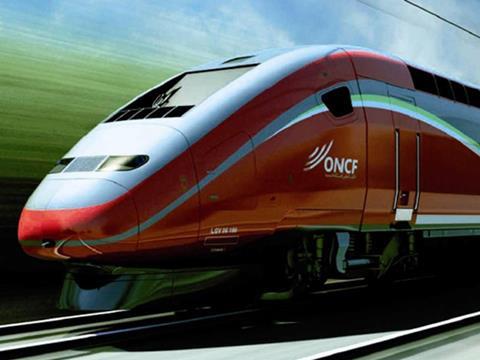 MOROCCO: A foundation stone was laid in Tanger on September 29 to mark the start of construction of a high speed line to Casablanca.
The ceremony was attended by King Mohammed VI and French President Nicolas Sarkozy, reflecting the close relationship between the two countries which has underpinned the project to date. Also present were the French and Moroccan transport ministers, Thierry Mariani and Karim Ghellab, Mohammed Rabie Khlie, Director-General of Moroccan state railway ONCF, SNCF President Guillaume Pépy, and UIC Director General Jean-Pierre Loubinoux.
Under the plans, a 200 km high speed line is to be built from Tanger to Kénitra, from where trains would use the upgraded existing line via Rabat to Casablanca. Services are expected to begin by the end of 2015, when journey times between the two cities should be reduced from 4 h 45 min to 2 h 10 min. A future second phase is planned to extend the line from Kénitra to Casablanca.
ONCF has ordered a fleet of 14 double deck Alstom Duplex trains equipped to operate at up to 320 km/h on the 25 kV AC high speed line and at up to 220 km/h on the existing 3 kV DC network.
Project costs are expected to comprise 10bn dirhams for infrastructure, 5·6bn dirhams for railway equipment and 4·4bn dirhams for rolling stock. The Moroccan government is providing 4·8bn dirhams in funding alongside 1·9bn dirhams from French and European sources, while 12·3bn dirhams has been raised in loans, including a 740m dirhams contribution from the Kuwait Fund for Arab & Economic Development.