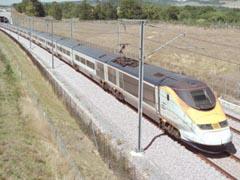 EUROPE: Eurotunnel is in discussions with the Intergovernmental Commission over amendments to the safety regulations which restrict the types of train permitted to use the tunnel, notably the requirement that trains should be capable of being split in an emergency and driven out separately.
The company has now set up a working group to assess the safety of running shorter trains, so that open-access operators would be able to use the Channel Tunnel more economically. The 393 m long Eurostar sets were designed to ensure that wherever they stopped passengers would be able to evacuate into the service tunnel through one of the cross-passages spaced at 375 m intervals.
Eurotunnel Chairman & Chief Executive Jacques Gounon told The Times that 'events in the Tunnel last December, when we had to evacuate 400 m trains, showed how difficult it can be to get 750 people out. Of course, this was the first time in 15 years that we have had to do that, but we are considering whether the 400 m train is appropriate'. He told French business paper Les Echos that obtaining a derogation from the Intergovernmental Commission would be 'a major step in the liberalisation of Channel Tunnel passenger traffic which would assist the arrival of competitors such as Deutsche Bahn'.
Eurotunnel insiders believe that DB could be operating high speed services between Frankfurt and London as soon as the December 2012 timetable change.