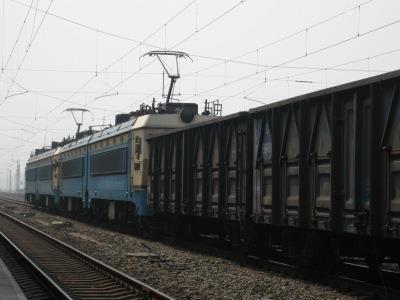 CHINA: The Ministry of Railways has started planning for a third heavy haul railway corridor to carry coal from mines in Inner Mongolia to a new port on the Bohai Sea.
Work has already started on a coal export terminal at the port of Huludao in Laioning province, around 150 km northeast of the existing coal port at Qinhuangdao. According to the head of the Huludao port authority Zhao Rongqing, the first phase of the terminal is expected to become operational by 2012, with an initial capacity of 50 million tonnes a year. An eventual throughput of 230 million tonnes a year is envisaged.
To carry the coal, a 300 km heavy haul railway is to be developed to link the new port with mines in Inner Mongolia. This is the fastest growing region for coal mine development in China, with reserves estimated at 750 billion tonnes. This is three times the size of the coalfield in Shanxi province, which currently produces around 600 million tonnes a year.
The new line would head northeast from Huludao to the existing junction at Jianping, before skirting west of Chifeng to meet the Jining – Tongliao line at Jingpeng. From here it would run northwest to reach the mining districts around Xilinhot. This is around 200 km west of the reserves at Bayan Ul which are to be served by a privately-promoted 487 km line from Xinqiu near Fuxin.
Wang De from the economic commission in Xilinhot told the Xinhua news agency that the prefecture had verified coal reserves of 150 billion tonnes. Production is expected to top 100 million tonnes this year, although output is currently constrained by the need to move most of the coal by road. Construction of the railway would enable production to increase to a projected 350 million tonnes by 2015, he said.