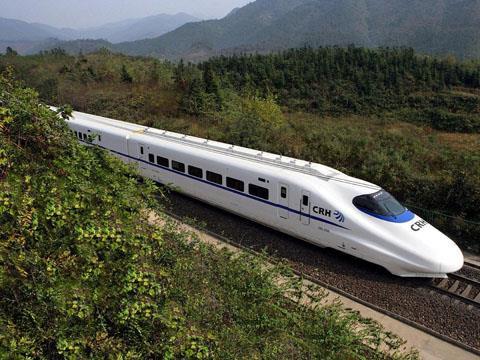 CHINA: The rapid expansion of the Chinese rail network continues, with a series of significant openings in recent weeks.
Two years to the day after a devastating earthquake hit Sichuan province, a 65 km high speed link between Chengdu and Dujiangyan was opened on May 12. The 13bn yuan scheme formed the largest post-earthquake reconstruction project, with work starting in November 2008 and trial running from April 1 this year. Two-thirds of the line is elevated, with 37 viaducts having total length of 44 km. Running speeds up to 220 km/h give a journey time of 30 min.
May 12 also saw the opening of a 759m yuan container terminal in the Qingbaijiang district of Chengdu. It is a hub for freight services on the lines to Kunming, Chonaqing and Baoji, with annual traffic expected to grow from 12 million to 26 million tonnes.
Passenger traffic is expected to start in June on the 768 km Lince Railway, which carried its first freight on May 16. The line runs through Inner Mongolia south of the Mongolia border from east to west from Linhe to Bayan Nuru, Daiain Hob and Saihan Toroi, where it connects with an existing branch from Qingshuipu. Work on the 4·27bn project was launched in October 2006.
Construction has begun on the 39 km Nanjing - Ma'anshan high speed line, which should open at the end of 2012 at a cost of 3bn yuan. It is the initial stage of a line running from Nanjing to Wuhu, Anqing and Jiujiang.