CHINA: Brake manufacturer Knorr-Bremse Rail Vehicle Systems announced on June 3 that it had won orders totalling €210m to supply braking equipment to several Chinese rolling stock builders.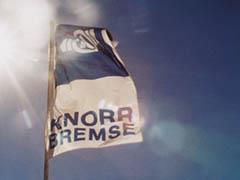 Delivery of the equipment for 1 490 locomotives, 40 high speed trains and almost 600 metro cars is due to start in October 2008 and will run until mid-2011.
The biggest single customer is Dalian Locomotive Works, which has ordered brake control systems for 360 locomotives and complete braking systems for another 50. Knorr-Bremse will also be supplying braking systems for a further 500 six-axle locomotives to be built at Dalian.
Meanwhile, Knorr-Bremse has received an order from Zhuzhou Electric Locomotive Works for brake control and bogie equipment for 580 locomotives.
The company is to supply braking equipment to Bombardier-Sifang Transportation to equip 20 high speed trainsets and 20 sleeper trainsets being built at Sifang for use on the the Beijing-Shanghai line. The sleeper trains will also have door systems supplied by Knorr-Bremse subsidiary IFE Automatic Door Systems.
In the mass transit sector, Knorr-Bremse has won orders to provide braking equipment for almost 600 cars to operate the rapidly-expanding Shanghai metro network. The orders cover 348 cars for Line 11 and 246 for Line 10.
According to Board Member for the Rail Vehicles Systems Division Dr Dieter Wilhelm, 'with five joint ventures and our own production facility in Suzhou, we can now offer Knorr-Bremse quality from China and fulfil the requirements for local content'. In recent years, he says, the company has established a strong position in the Chinese rail vehicle market, offering a full portfolio of braking systems, doors, air-conditioning and electrical components.