CAPACITY: With expenditure of A$1·3bn in the next financial year, infrastructure manager QR Network is delivering the largest capital investment programme in its history, but planning assessments suggest that much more capacity will be needed to meet projected demand in the next five years.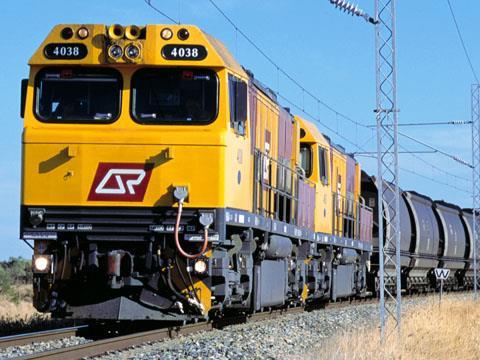 Michael Carter, Executive General Manager, QR Network
QUEENSLAND's coal industry is the largest in Australia, and around 85% of its production is exported. In the last financial year QR Ltd transported more than 164 million tonnes of coal within the state. This represents an increase of 14% over the last five years, and the demand for rail capacity is expected to increase by between 20% and 70% over the next five.
For infrastructure manager QR Network, the task of planning for such an unprecedented increase in demand is both a challenge and an opportunity. If we are to meet the needs of our customers, and earn a sound commercial return, we need to establish and maintain close working relationships with our supply chain partners, the state government and other stakeholders.
QR Network's infrastructure is incredibly diverse, ranging from the heavy haul tracks serving the state's rich mineral deposits and the metropolitan commuter network of South-East Queensland to long-distance regional freight and rural lines, and the standard-gauge line linking Brisbane with the New South Wales border.
Demand for capacity has increased across all of our major markets and is putting pressure on the network. But at the same time it is enabling QR to progress toward our goal of increasing rail's share of the land transport market. Essential to achieving this goal is identifying future capacity requirements effectively and planning the related infrastructure investments.
Coal conundrum
The planning of future coal capacity is complex. Queensland's coal comes from 39 mines served by five different rail systems, linked to six domestic terminals and six export coal ports. About two years ago, unprecedented demand for export coal led to much-publicised capacity bottlenecks on the Goonyella System, resulting in long queues of ships at the Dalrymple Bay Coal Terminal. An independent report confirmed the need for better long-term integrated planning by all members of the logistics chain.
At that time, QR Network had just begun to implement a new planning process, in order to identify and meet future demand. In the past, individual logistics networks tended to 'self-manage', with only a limited focus on interdependencies. This worked because of the latent capacity within the supply chains, and the transition to fewer and more vertically-integrated entities. However, the spare capacity has been used up, and today we need to consider the whole supply chain.
QR Network's 2006 Coal Rail Infrastructure Master Plan was the first in a series of plans by different players which were intended to provide greater certainty for long-term capital expenditure in the coal industry. As owner, developer, manager and maintainer of the rail infrastructure, QR Network presented its long-term view of what would be required to accommodate projected market growth.
This first plan focused on our assessment of system throughput, demand and anticipated capacity constraints, incorporating as much data as possible from other players in the supply chain. Collaboration and trust were crucial to developing a viable plan and these have been strengthened as the resulting document proved to be both reliable and credible.
The 2006 plan and a 2007 addendum outlined a five-year view of options for capacity expansion. This gave the stakeholders the opportunity to provide feedback on proposed projects ahead of an industry vote.
The coal companies endorsed an investment programme of 27 projects valued at nearly A$1bn to increase capacity on the Goonyella System by around 40% and by nearly 50% on the Blackwater and Moura Systems. Due for completion by the end of 2009, these projects are being delivered by QR Network on time and on budget, a considerable achievement given the escalation of local construction costs.
Amongst the projects are a third train unloading loop at the Dalrymple Bay terminal, yard improvements, many sections of track duplication, and power supply upgrades. Since the plan was first published, QR Network has built or is adding approximately 282 km of new track. This does not include up to 660 km of track needed as part of two other substantial proposals, the Goonyella – Abbot Point expansion and the Surat Basin Railway.
Enhancements elsewhere in the supply chain include expansion work at the major ports, significant mine developments and the purchase of extra rolling stock by QR's coal business group. QR National Coal is currently the only coal train operator in central Queensland, although Pacific National is due to begin hauling coal in the region in 2010.
As expected in a growth phase, investments across the supply chain have different timeframes, even when being delivered simultaneously, and the bottle­necks have shifted from one sector to another. We anticipate that the supply chain will be fully in balance by 2010, and our master planning process has been a key contributor to this.
Whereas the first plan looked five years ahead, our 2008 plan takes a longer view, facilitating planning for each of the coal systems over the next 20 years. These long-term planning scenarios are linked to identifiable expansion projects at the export terminals. The Queensland ports have announced their intention to expand throughput to 261 million tonnes per annum over the next two to three years, with coal export cap­acity projected to reach 450 or even 600 MTPA in the longer term.
The current master plan illustrates a path to grow rail infrastructure to match this planned port expansion and expected growth in the domestic coal business. It shows conceptually the infrastructure that would be required to match a potential export capacity of 450 MTPA, which is approximately three times the export volume achieved in 2006-07.
Demand modelling
QR Network gathers information from many sources to try and understand future market potential, including independent forecasts, and discussions with current and prospective mining customers, port owners and operators. A combination of contracted capacity enquiries and industry forecasts is used to determine likely demand profiles. The process covers a timescale ranging from two years ahead to more than 15 years. Potential enhancements beyond this period are identified, but there is obviously less certainty about these results.
In order to propose infrastructure enhancement options and recommendations to the industry, our planners need to understand the actual dynamics of the logistics networks, identify any major constraints, and analyse the capacity of the overall supply chain, including infrastructure and operating practices. Modelling of possible below-rail investment projects shows how the various constraints can be addressed. Infrastructure maintenance requirements also have to be considered, as well as the potential growth of non-coal traffic on shared routes.
Our modelling compares each potential project on an incremental basis in terms of the benefits for throughput tonnage, weighted average cycle time, rail transit time and assessment of throughput benefits for different train profiles. From a total supply chain perspective, sufficient capacity must exist to ensure the railway does not become the capacity limit, enabling optimum use of the port unloading pits and stockpiling facilities.
As the capacity of rail infrastructure is a dynamic concept, QR Network considers the operating mode for the supply chain in each corridor and the level of tonnage demand. We then allow for variation, planned non-availability (such as maintenance) and system failures using an analysis of current operations.
Three levels of analysis
Our planners use three levels of analysis and modelling.
High level, or conceptual operating plan analysis, is used to determine whether capacity exists in response to requests for slight changes in tonnages or extra services.
Static modelling uses a medium level of detail to analyse network use and identify current or future areas of high utilisation which may be potential stress points. QR Network has a number of custom-built models, including the Capacity Path Utilisation Model, which calculates train paths using parameters such as critical section running times on single lines or longest section running time across a route.
Dynamic modelling adds more detail, working on defined input parameters and calculating the trigger when upgrades would be required. The Reference Capacity Model, which runs on the Planimate platform, tests the various operating changes and investment options.
The model aims to simulate operations as realistically as possible, using the main variables of below-rail infrastructure, the number of trains, related section running times, mine and port tonnage profiles, loading and unloading times, as well as planned outages and delay factors. Potential unplanned events and operational response mechanisms can then be interpreted in light of these results.
This process allows us to identify the best options for increasing system capacity, drawn from analysis of actual performance, including variation by cause, observation of operations and discussion with the front-line operators, network controllers and others with local knowledge and experience.
We test each project on an incremental basis; comparing alternatives for throughput tonnage benefit and effects upon key service level indicators, and for throughput benefit for a number of train profiles.
QR Network works with train operators to compare the relative efficiency of investing in above-rail assets (locos and rolling stock) compared to below-rail infrastructure options. This allows us to consider the impact of potential enhancements to overall supply chain capability arising from changes at the coal terminals, railway yards and mines. Our ability to perform a meaningful cost-benefit analysis on such options is, of course, dependent upon transparent sharing of information between the various stakeholders.
Once the coal industry has reached agreement on the investment needed to meet future demand, QR Network is responsible for delivering the infrastructure elements. Procurement processes for each project are selected on the basis of considerations such as ability to deliver the project on time, cost control, their relative applicability to greenfield or brownfield sites, and the construction resources available.
Smarter operating
We also develop and recommend 'smart operating' options which can increase capacity, manage existing constraints, and prevent bottlenecks on the network, including yards.
To maximise train throughput, our network controllers follow principles of 'disciplined train running'. This includes realistic time separation and sectional running times, timetabling that allows for contracted train services and ad-hoc extras, safeworking processes, and protocols to aid recovery from out-of-course running or disruption.
In the Moura, Blackwater and Goonyella Systems, QR Network's integrated planning teams communicate every day with mines and ports. The teams work together to identify critical asset capability and reduce system variability, producing performance reports and forecasts to maximise the utilisation of resources. During the planning process, critical information is passed between partners on the basis of a shared understanding about operating processes.
One innovation implemented by QR Network has been zonal control, a safeworking method introduced on the central Queensland coal lines. Developed for use where signalling is not available, zonal control is usually applied during construction, commissioning of new track and maintenance. The zone is divided into manageable sections, and the limits are clearly signed. Train movements within each area are managed by a Zonal Controller with assistance from a local co-ordinator and point operators who set the train routes before verbal movement authorities are issued.
On the Blackwater System, the first 11 uses of zonal control enabled the railway to handle an extra 546 000 tonnes between August and December 2007. Zonal control is now being adopted across other areas of the business.
Quantum leap investments
QR Network is currently delivering the largest capital investment programme in its history. Our current five-year investment plan exceeds A$3bn, with A$1·3bn to be spent in the next financial year. But this pales in comparison to a new project for central Queensland which is currently at an early stage of development.
The Goonyella – Abbot Point expansion scheme is the largest single rail project in Queensland's recent history and could increase export coal capacity by up to 100 MTPA. Preliminarily estimated to cost around A$4bn, the project involves the construction of up to 450 km of new track and electrification of 600 track-km, which would make it Australia's largest electrification project in two decades. Other elements include construction of the 69 km Northern Missing Link to connect the Goonyella and Newlands Systems, along with related upgrading works on both of them.
The GAP project offers huge potential for Queensland to win additional business in the export coal market. It would allow more efficient access to Abbot Point Bulk Coal Terminal where Ports Corporation Queensland is looking at an increased export capacity of 50 MTPA by the end of 2010, compared with 21 MTPA today.
QR Network is also participating in the Surat Basin Rail joint venture, which represents a new way for us to do business. The JV is investigating the feasibility of a multi-user railway to link thermal coal reserves in southwest Queensland to the existing port at Gladstone, through the construction of the Southern Missing Link.
As well as enabling development of the Surat Basin coalfields, this new line would offer a more efficient transport route from nearby coalfields which must currently send their coal by rail over the steep gradients of the Great Dividing Range and through the Brisbane metropolitan area. The project includes a 210 km railway linked to the existing Moura System, which would be upgraded. While port facilities in Gladstone are already at capacity, a proposed terminal at Wiggin's Island would accommodate the additional coal exports.
The new line is designed to accommodate contracted tonnages estimated at up to 30 MTPA, but allowing for capacity to be increased if other proposed mines are developed.
Having developed its capacity modelling techniques in the coal sector, QR Network is now starting to apply the same principles to infrastructure investment on other parts of its rail network. We recently released the first draft of a Master Plan for the Mount Isa railway, which serves a mineral-rich region in northern Queensland where substantial growth is expected over the next five to 10 years.
Metropolitan opportunities
Capacity through the Brisbane metro­politan area is currently the subject of much analysis. South-East Queensland is the fastest growing region in Australia, with public transport patronage increasing by a staggering 40% over the past four years. The challenge to meet future passenger demand is huge, as the region's population is expected to grow by more than a third to reach 4 million by 2026.
While there is much focus on improving capacity to carry passengers, the capital's rail network also includes major trunk routes serving regional and inter-state destinations. These are used by a large volume of freight traffic which originates in the Brisbane area, along with export coal and grain traffic moving to the Port of Brisbane. Much of this must cross between the north and south banks of the Brisbane river in the city centre.
QR Network has been working with the state government on infrastructure projects to meet capacity projections, including new lines and track duplication. The latest version of the government's South-East Queensland Infrastructure Plan lists 30 rail projects with an anticipated cost of around A$20bn. The government is also looking at a possible A$14bn tunnel up to 11 km long, linking the north and south of the city.
Meanwhile, we have been working with consultants to develop cost-effective ways to increase capacity in the short term until major projects can be implemented. The range of options to achieve better train path utilisation includes longer trains with double-stopping patterns, reduced signalling headways and ways to spread the passenger loadings at peak times.
Uncertain future
The uncertainty of global markets highlights the complexity of forecasting future tonnages and infrastructure requirements, and we are monitoring closely the impact of the current global economic situation on the coal and mineral export sectors. However, our long term expectations are that demand for rail network capacity in Queensland will remain high.
QR Network is confident that looking at the rail network and its supply chain systems from a holistic perspective, combined with best practice in planning and strong relationships with our customers and partners will ensure that we are able to meet capacity demands efficiently and effectively.