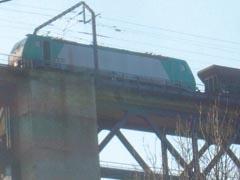 BELGIUM: DB Schenker Rail and SNCB Logistics signed an agreement to form a joint venture to manage cross-border freight trains between Belgium, Germany and the Netherlands on December 10.
Corridor Operations Belgium Rail will be an operating organisation, with commercial activities remaining in hands of the two companies. COBRA's main office in Brussels will have 'a well balanced team of SNCB and DB Schenker Rail managers'.
Electrification of the Montzen - Aachen West freight route in December 2008 has enabled the SNCB to optimize its east-west traffic flows. 'Our exceptional geographical position and our ambition to develop freight activities in Belgium and in Europe requires us to look for reliable international partners', said SNCB Chief Executive Marc Descheemaecker. 'We are happy that a such a reliable partner as DB Schenker Rail has joined forces with us so we can offer quality transport on this very important corridor'.